Need a little fantasy break from the bleakness of winter?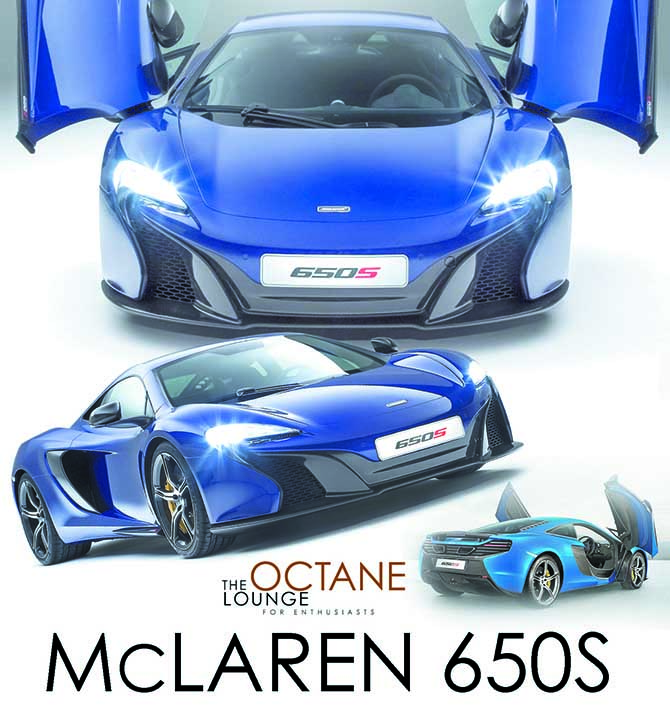 By TOM JENSEN
www.wheelbasemedia.com
Some genius at Sports Illustrated magazine figured out decades ago that February was fantasy time.
The magazine has made untold millions after determining that guys who have been cooped up in their homes and offices all winter, freezing their you-know-whats off, would go berserk over a "swimsuit edition".
Fear not, car gals – and car gals – we have some serious fantasy material for you, too, but ours is all about sexy sheetmetal and supercar performance. Allow us to introduce the new McLaren 650S, which will make its first official public appearance at the Geneva Motor Show in Switzerland in March.
They're supercars, not luxury cars, so the interiors have just the basic comforts and usually outstanding instrumentation and driving position.

The 650S is based on the current MP4-12C, pictured, and still uses that model's giant air brake on the back to aid deceleration.

After a winter of staring at snow-covered station wagons and minivans, it's about time that you got to see something a little more sexy. The McLaren 650S is based on the current MP4-12C with a lot of updates to the exterior. The twin-turbo V8 basically carries over, though.
The new U.K.-built McLaren will be available in both hardtop and convertible form, or as the Brits like to say, "a fixed-head coupŽ or Spider."
But, hey, it has been a long, cold and miserable winter, so we're not going to make you wait any longer.
The British supercar maker/Formula One team claims the 650S, which is based on the existing McLaren MP4-12C, will be "its fastest, most engaging, best equipped and most beautiful series-production supercar yet."
Officially, McLaren has not released actual performance numbers, but the Web site www.telegraph.co.uk claims the new McLaren 650S has a top speed of 207 mph, along with impressive acceleration: Zero to 100 km-h (62 mph) takes 3.2 seconds, while zero to 200 km-h (125 mph) comes in 8.4.
Obviously, to be that quick requires some serious horsepower and the newest McLaren has it, thanks to a 641-horsepower twin turbo V8 engine.
Prices for the new 650S are £195,000 (US $325,500) for the coupe and £215,000 ($358,950) for the Spider, which represent a premium of £20,000 over the equivalent McLaren 12C models.
As you would expect, the 650S is loaded with all sorts of high-tech features that are necessary when you're talking about a car with this level of performance capabilities.
Take aerodynamics, for example. There's a new bumper and an integrated front splitter that creates additional downforce, to give more steering feeling and better balance. Door blades behind the front wheels direct air from the trailing edges of the front splitter, again for more downforce and better balance.
Out back, the 650S features the McLaren Airbrake, which automatically deploys whenever the car senses extra downforce is needed. And that's not just hype that this stuff works: according to McLaren, the 650S has the same coefficient of drag as the 12C, but at 150 mph, it actually has 24 percent more downforce.
McLaren's ProActive Chassis Control suspension system allows the driver to adjust the car's ride and handling modes – choosing from Normal, Sport or Track modes – independent from the drivetrain.
Appropriately, the new McLaren rides on newly designed alloy wheels, which are wrapped by Pirelli P Zero Corsa tires.
It might be a race car in street trim, but McLaren has also gone to great lengths to make sure its newest model is well equipped. Among the myriad standard features is an advanced navigation/audio system that you presumably won't need while ripping down a race track at more than 200 mph, but it will be there when you want to enjoy them at a more sedate pace.
Optional are fixed-back carbon racing seats, enhanced carbon-fiber trim throughout the cockpit, an electric steering column adjustment to make ingress and egress easier, and, yes, a rear parking camera.
There is no word on if the 650S can actually make winter go away, but presumably you can drive south to escape the cold weather at a much faster pace than before.
So while it's still chilly, hopefully a little February fantasy will warm you up until spring arrives.
OCTANE LOUNGE
LIVE ACTS
PURE ELEGANCE: The Amelia Island Concours d'Elegance takes place March 7-9 at the Ritz-Carlton Amelia Island, Fla. The 50th anniversary of McLaren will be one of the highlights of the event.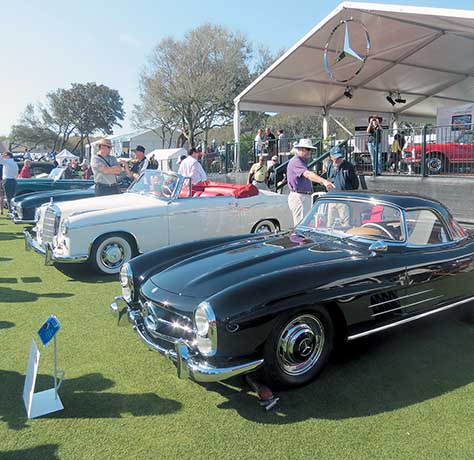 'VETTES WILL BE SAVED: Repairs to a huge sinkhole that opened up in the Skydome exhibit at the National Corvette Museum in Bowling Green, Ky., are expected to take two to three months to complete. The sinkhole, which opened up on the morning of Feb. 12, swallowed eight historically significant Corvettes. General Motors has said it will restore the cars.