When a loud muffler just won't cut it, there are people out there who have risked life and limb to feed your obsession. Get out your checkbook.
By JEFF MELNYCHUK
WWW.WHEELBASEMEDIA.COM
In the quest for the outrageous, the unique and the blindingly fast, where a stock car just won't cut it, there is "the tuner."
If you're unwilling to be outgunned – ever – chances are you'll be on the phone with someone like Cody Loveland, the owner of Lovefab, Inc., based in Traverse City, Mich.
The point is simple. Companies such as Lovefab take the guesswork out of doing modifications yourself. You pick up the phone, say what you want your ride to do, and Loveland will tell you how much it will cost to get there. Road racing, rallying, street driving, weekend drag racing. It doesn't really matter.
But how does Lovefab know what to do? Well, the company is perhaps best known for its engine programs for the Acura NSX, which was built from 1991-2005. Loveland works with other makes/brands such as Porsche, BMW and the new 2014 Corvette Stingray, but over the years, he has learned what can and can't be done to the NSX's small V6 engine. And not always by doing things the easy way.
Equipment limitations are often discovered by breaking things, or by racing . . . or both. Top tuners race their own hardware to learn and Loveland seems to have a flair for the dramatic. Namely, the yearly Pikes Peak International Hill Climb in Colorado.
"Racing is the most brutal form of testing there is, especially Pikes Peak. When you're racing cars at 14,000 feet, the strain on the parts is astronomical when compared to street driving at relative sea level. When you're racing up a mountain, and you look over the edge DOWN at an airplane, it really gives you a sense of magnitude. Our parts survive up there, we've proven it, and so they survive in normal street or track driving without issue. In fact, we have a couple of NSX turbo systems with over 100,000 miles on them with zero issues since installation."
For most people, that's all the proof they would ever need to drop $11,000 or so on a proven package, but what if your wallet is a bit thicker? Is anything possible with any car?
"With a big enough check, yes."
A full-on 600-700-horsepower rebuild with a Lovefab turbocharger system and all the tuning to optimize the NSX can run close to $30,000, but there is no guesswork for customers. The price, while it seems healthy, is just a small percentage of the research and development costs that it took to create the package in the first place.
For buyers who love their NSX and have the cash, it seems like a no-brainer.
Dan Spinelli of Albany, N.Y., shipped his red 1993 NSX to Lovefab in Michigan for a total engine overhaul and power boost.
"I have a buddy with a (Porsche) 911 who needs a little lesson. He doesn't know yet. I'm thinking 550-600 rear-wheel-horsepower. It's really a sickness and there should be a hotline for 'speedism.'"
But what about newer cars with engines bathed in electronics? Can you just drop off your new BMW for some upgrading? Is it too complicated?
"No," says Loveland, "In most cases, the plethora of electronics and mechanical advances helps dial the car in that much further.  What makes things difficult on the 'street car' side of things is all of the emissions laws . . . For instance, our NSX turbo systems have passed emissions in 49 states, and will even pass the strict sniffer tests of California. But, because there are 'visible' modifications, the cars are not street legal. This is a huge nuisance and quite a drain on our overall gross sales."
There are other issues, too, especially when the cars end up in the hands of others who are less experienced.
"Generally, we don't see an NSX back in the shop once it has left. The unfortunate but very common exception is when a long-distance customer entrusts their NSX to another 'tuner' shop, and ends up with a blown motor. The customers are told that they can expect 'X' amount more power, when that shop doesn't have the experience necessary to dictate what a 'safe' power level is. Half of the cars in here over the past two years were directly related to other shops."
It's a high-stakes business that likely makes anyone wonder why they're in it in the first place.
"Aside from the obvious of making a living to support my family," says Loveland, "the largest driving factor is witnessing the customer's giddy-school-girl-scream and ear-to-ear smile that always happens during the first drive after modification.
"Our idea of a happy customer is one who can hop in their car at any time of the year, fire it up, and it starts every time. They can go to the grocery store to get milk, or to the track and bang out some hot laps. Today's 'tuner cars' have to do it all, or the customer won't be happy."
From the other side of the fence, NSX owner Spinelli jokingly sums up the apparent never-ending obsession for speed.
"If you're not first, you're last."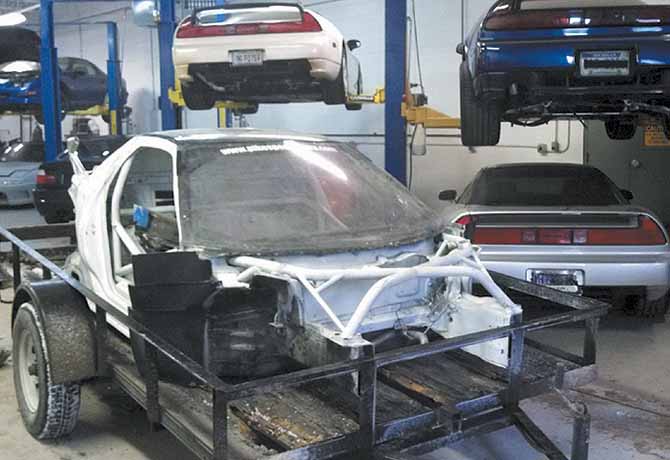 Lovefab earned its stripes by tuning Acura NSXs. In this case, "tuning" means complete engine transformation as well as racing. This is the chassis of the company's first Pikes Peak hill-climb NSX.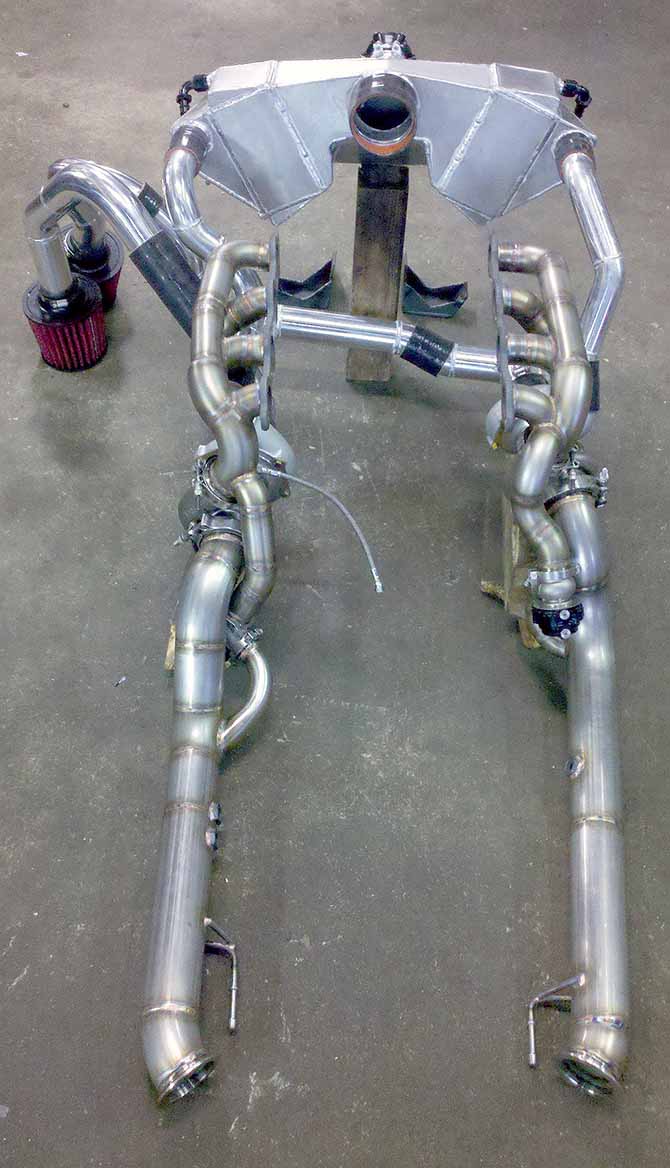 Tuners are sometimes pigeon-holed by brand, but this hand-built General Motors V8 turbo system proves otherwise for Lovefab.

It's not just bolt-on and go. Each car is extensively fine-tuned on the chassis dyno for driveability as well as big power numbers. Reputable tuners do this.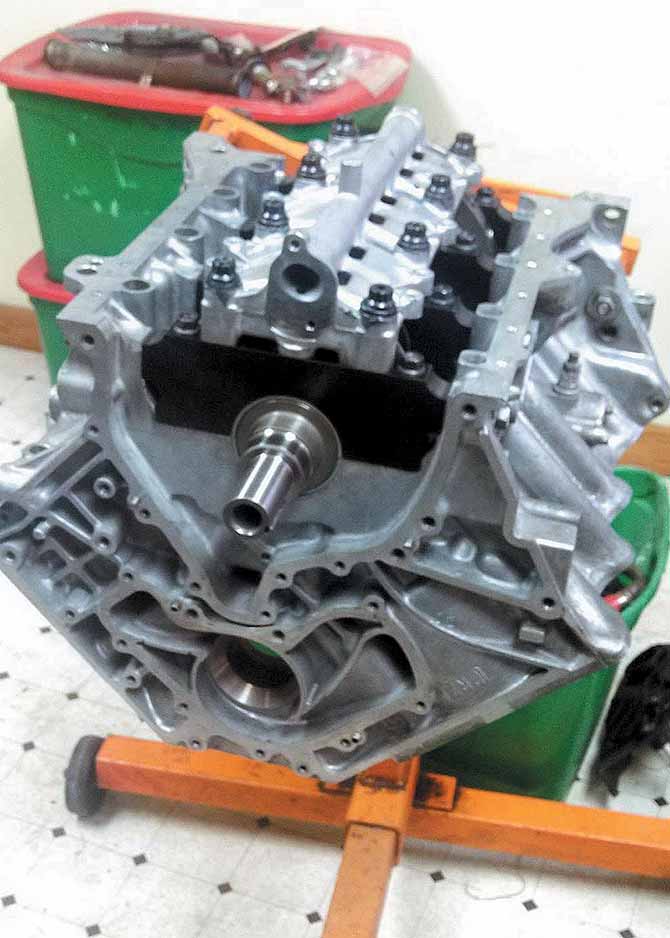 Would you pay someone to experiment on your engine, or would you rather buy proven expertise?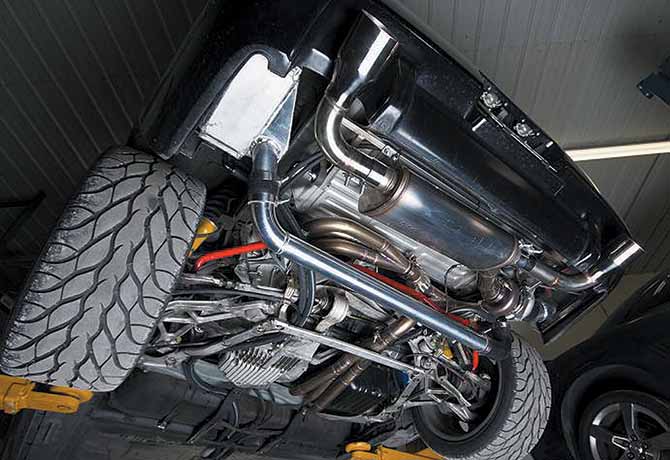 This is what tuners do: make it look easy. It took years to get this far with the Lovefab Acura NSX engine program and learning is ongoing.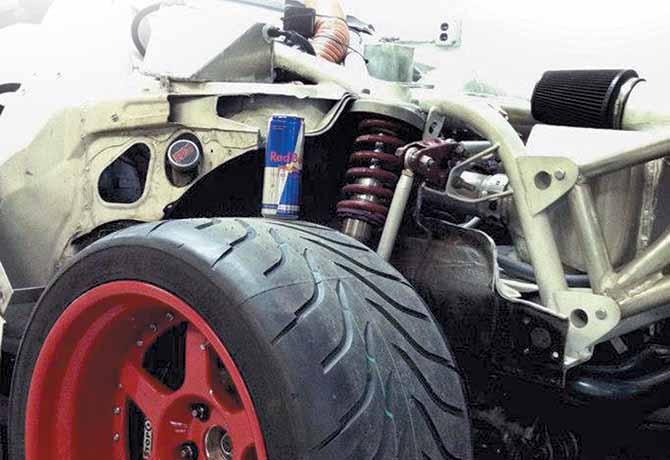 To push the limits of the equipment, Cody Loveland hacked up an Acura NSX road car and took it to the Pike's Peak hill climb in full race trim. That experience is in every engine that Lovefab, Inc., puts out.
Jeff Melnychuk is Wheelbase Media's managing editor. You can reach Wheelbase on the Web at www.wheelbasemedia.com by clicking the contact link. Wheelbase supplies automotive news and features to newspapers and Web sites across North America.