Nissan ships eight Micras to The Big Apple from
Canada to demonstrate how gridlock can be tamed.
By MALCOLM GUNN
WWW.WHEELBASEMEDIA.COM
'You can't buy it here,' was the often-repeated response to inquisitive New Yorkers who saw the little Nissan Micra on the congested streets of Manhattan.
As if to tease the residents of NYC's largest borough, Nissan Canada brought in eight Micras for a group of visiting auto journalists to drive, ahead of the 2017 New York International Auto Show in April.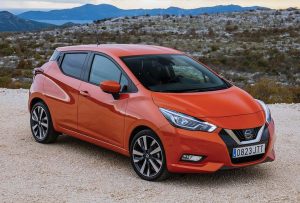 It was really a two-way-street scenario. The writers experienced Manhattan's criss-crossing crowded streets while avoiding contact with the operators of erratically driven taxis, buses and commercial vehicles, while bemused onlookers were left wondering what the procession of tiny-tot hatchbacks was doing scurrying around their island.
It's surprising how few subcompact cars there are in Manhattan. Other than a few Mini Coopers and a gaggle of Smart cars (mostly driven by New York City's parking control), that's about it. Perhaps in the interests of vehicular self-defense, New York drivers prefer as much protective sheetmetal as possible between them and others sharing the pavement. Mid- and full-size sedans, tall wagons and utility vehicles dominate.
The interloping Micras provide a blend of compact dimensions and relatively comfortable seating for four adults. The car's tall roofline makes it easy to see clearly in all directions (New York streets are no place for the myopic) and the reasonably zippy and fuel-efficient 109-horsepower 1.6-liter four-cylinder engine allows it to keep up with fast-moving traffic in something other than second gear, on those rare occasions when that condition presents itself.
Back in Canada, the little Nissans are considered peppy enough to be used in the Micra Cup race series. Aside from safety upgrades, the racing version is essentially the same as the street car.
For the Manhattan drive, most Micras were equipped with the optional four-speed automatic transmission. Not six, eight, nine or 10 forward gears, but four. The four-speed is a bit choppy when it changes gears and the upshifts to third and fourth gear are sluggish. The drivers who selected the five-speed-manual transmission were dealing with their own issues: 'Clutchitis,' from severely fatigued left ankles and calf muscles from Manhattan's stop-and-go traffic.
In keeping with the 'small' theme, Nissan Canada plotted a circuitous route from one end of Manhattan to the other that included stops at a number of tiny attractions. Among them was New York City's narrowest house, located at 75? Bedford St. in the Greenwich Village district. Parked out front, the littlest Nissan appeared perfectly scaled for the 9.5-foot-wide, 144-year-old three-storey residence.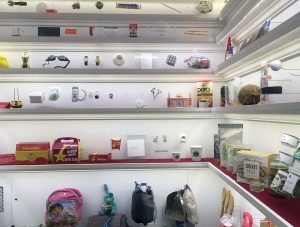 In a city that's full of museums, another pit stop was at what's billed as New York's smallest. The Mmuseumm is set up in a former elevator shaft that faces an alley in the heart of the downtown area. The contents of the 48-square-foot establishment are indeed odd. Although the displays are regularly updated, items included a tube of used kosher toothpaste, the infamous shoe that was thrown at President George W. Bush during a press conference in Baghdad, Iraq, and various samples of fake barf.
Lastly, no driving tour of Manhattan would be complete without a stop in front of the nine-foot-tall Statue of Liberty in front of a Madison Ave. office tower. ItÕs one of 12 replicas in existence made from the original design mold by Auguste Bartholdi, the designer of the full-size 151-foot version on Liberty Island in New York Harbor.
As a counterpoint, the lunch stop put the Micras within a couple of blocks of the 1,792-foot-tall One World Trade Center.
For this day-long adventure, the Micra proved its mettle over and over again by squeezing through traffic, parking in tight quarters and ferrying occupants in reasonable comfort.
There are rumors that the next-generation Micra, already on sale in Europe, will come to the United States and Canada within a year of so. Bring it on, Nissan, and have another go at making it in Manhattan, and elsewhere.
Malcolm Gunn is a feature writer with Wheelbase Media. You can message him using the contact form at www.theoctanelounge.com. Wheelbase Media is a worldwide provider of automotive news and features stories.