You're obligated to smile when you drive it. Like, all the time . . .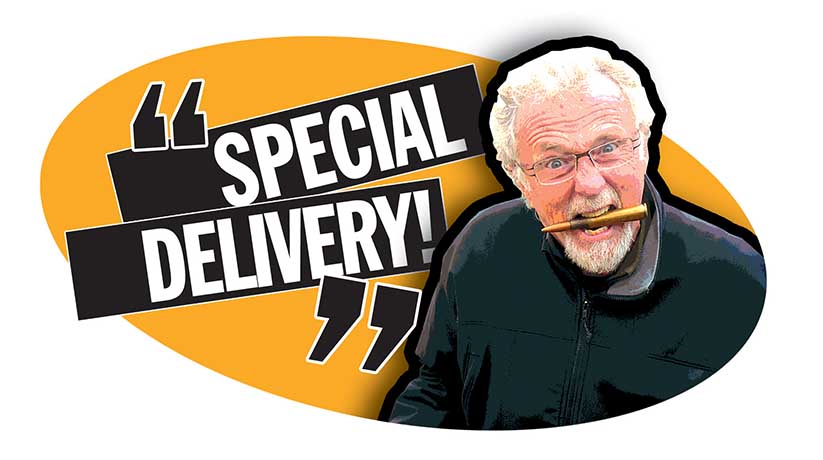 What test car is Garry bringing us this week?
We literally have no clue what he's bringing us until it lands in our driveway, but who are we to doubt Garry Sowerby, who has a bazillion Guinness records for around-the-world driving? That's a bazillion more than we have, after all. Come along and find out as we drive 'em, dirty 'em and shoot 'em with our phone cams. These are real-life, no-glam reviews.
DIRT ON GARRY
After finishing an around-the-world drive in 1997, Garry's vehicle, which was being transported by jumbo jet, went missing. It was actually bumped from the flight for a shipment of barbie dolls destined for New York.
By JEFF MELNYCHUK
MOST TIMES WHEN A CAR COMPANY TRIES TO CATER TO AN AGE GROUP OR DEMOGRAPHIC, THEY FAIL. SOMETIMES IN SPLENDID FASHION. YOU JUST CAN'T TELL BUYERS WHAT THEY WANT.
Whether by luck or design, Kia hasn't really boxed in the 2014 Soul with an "age" range. It has instead tried to make the car cool. And since we all strive for some level of coolness in our lives, we should all be driving a Soul, right?
I get the marketing pitch, but I have to say that Garry doesn't look very cool as he pulls up in a car that's whiter than his hair. And he doesn't look happy. Should he not have a big, fat grin on his face from driving the cool-mobile?
"Why so glum?" I ask.
Garry says he's wearing the same face he always does. Any other day and in any other car, I wouldn't question it, but in the Soul he looks angry. I surmise it's because you absolutely must smile while driving the Soul. All the time. Like Smart car drivers or unicycle riders or people on TV game shows.
Turns out that this is a huge responsibility that I'm not really cut out for. After a week in the Soul I was told at least five times that I looked angry. I swear, I wasn't doing anything differently and I honestly didn't have many issues with the Soul itself. You're just supposed to look happy in this thing. People expect it, it seems.
About the car, though. It looks much like the old Soul, which makes you wonder why Kia would spend presumably hundreds of dollars (if not millions) basically reinventing the wheel. The simple answer is that it's because the Soul brand is as much visual as it is about a four-letter word (not that one). Kia chose to have continuity and a recognizable shape.
In front, a revised "bulldog" nose and enlarged grille adds greater definition, while the butt's boomerang-shaped taillights appear to be floating inside the rear glass, as does the rear body panel built into the liftgate. The effect is pretty cool, indeed.
The overall packaging has also been upsized slightly. Practically, that means cargo space has been upped and the liftgate opening is 2.4 inches wider.
Despite its small stature, there's actually a ton of passenger room in front. The test-car interior is complemented by delightfully strange and towering shapes for the vents, topped with silver speaker grilles. The centre of the dash has a giant speaker in it, too, and the Soul is about the only vehicle that can get away with this because, well, the car is just abnormal enough.
Nearly all of the plasticity bits are now covered in/replaced with soft-touch materials, as are the door panels. For a starting price of 17 grand plus destination charges, it's a heck of a buy. Loaded up like it is here, you're looking at closer to $30,000.
The base 1.6-litre is back but it's rated at 130 horsepower and 118 pound-feet of torque (previously 138/123), while the optional 2.0-liter four-cylinder returns with the same 164 horsepower. That's all fine and dandy but I don't know about this looking-happy-all-the-time thing.
Garry proves it when he finally picks up the Soul and asks me why I look angry.
(You can follow Garry on Twitter: @DrivenMind99)
OK, CAN WE CHAT?
WOW: Just a good car that drives well; solid build; interesting and detailed interior shapes; great design, Mr. Schreyer.
HMMM: Is it cool or cute? Tough call; perforated leather fills up with dirt; sleepy engines; better for two people than four on a road trip; abbreviated cargo area.

GARRY'S LINE OF THE WEEK
If you keep asking why I look mad, I'll have something to be mad about.

Short and sweet.


Hatch looks bigger than it is. Cargo area, not so much.


Instrument-cluster toupe?


Tow of power (sound and ventilation)


Watt's up? Infinity, that's watt.
Jeff Melnychuk is Wheelbase Media's managing editor. He can be reached on the Web at www.theoctanelounge.com by clicking the contact link. Wheelbase supplies automotive news and features to newspapers across North America.