Just shut up, already, and take my money . . .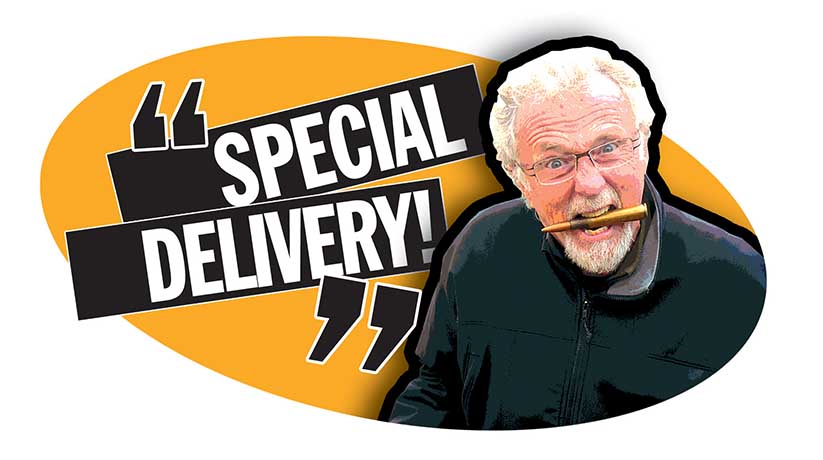 What test car is Garry bringing us this week?
We literally have no clue what he's bringing us until it lands in our driveway, but who are we to doubt Garry Sowerby, who has a bazillion Guinness records for around-the-world driving? That's a bazillion more than we have, after all. Come along and find out as we drive 'em, dirty 'em and shoot 'em with our phone cams. These are real-life, no-glam reviews.
WEEKLY DIRT ON GARRY
His first around-the-world driving record took place back in 1980. The car? A Volvo wagon.
By JEFF MELNYCHUK
The sticking point is not whether hyundai can sell cars costing $50,000 or more. It's whether the car in question is worth $50,000.
The new 2015 Genesis is therefore about perspective.
"Pretty nice, isn't it?" Garry says as he hops out and tosses me the key thing.
Pretty nice, indeed.
The thing that people have to come to grips with is that $50,000 is actually not an abnormally huge amount of money for a well-turned out full-size (gigantic, in this case) "luxury" car. A case in point is the $90,000 Audi A6 diesel we recently test, which of course is smaller than the Genesis. The Lexus LS starts in the mid-$80,000 range. The Cadillac CTS Vsport (also smaller than the Hyundai) we recently tested was also pushing $80,000. The Acura RLX is closer at $50,000.
So, actually, a $53,000 Hyundai has to be a deal, right? Well, getting back to the original question, it has to do with whether you feel like you're getting 50 grand worth of car relative to whatever else is out there and the answer is, easily, yes.
The "Genesis 3.8 Technology" Garry just dropped on the front doorstep has the base 311-horsepower 3.8-liter V6 as well as the HTRAC all-wheel-drive system.The car is spilling over with modern crash-mitigating electronics and a great 14-speaker "Lexicon" stereo that's set to some Hip Hop station that Garry likes. Please.
More than a mere list of features that I will not go on about here, what makes the Genesis worth the price is that it actually looks and feels like it's worth it, from the ride and drive quality to the side profile, to the long, upright nose, to the satin-nickel trim pieces. And the engine. OK, a V8 is available, but it's just not necessary. The 3.8 is plenty peppy, partially due to the eight-speed automatic transmission, while returning acceptable fuel performance. With premium brands de-emphasizing engine size and power, it matters less that the 3.8 is shared with the lesser Genesis coupe or the Santa Fe. Honestly, no one should care.
The beauty is that there are actually two Genesis models below this particular model, starting at $43,000. Looks like the large-car deal of the decade, eh?
And if you're really worried in this day and age whether people will think you're a wannabe by driving a Hyundai and not an Mercedes or BMW, that's not really the case. Most people I talked to were over the moon with the Genesis's looks, which is, believe it or not, a huge deal at this level. It helps that the car gets its own unique winged logo so you can't really tell who makes it. Failing that, if a Cadillac driver turns up his nose up at you, remind him about the 1981 Cimmaron (Google it).
Hyundai did such a good job on this car that it calls into question the relevance of the more expensive Equus model that starts at $65,000. Hyundai might actually do better to pay attention to the gap in the lineup between the smaller Sonata and the Genesis, which is more of a chasm, really.
But as far as the Genesis goes, it's "pretty nice."
Garry, you are the master of understatement.
(You can follow Garry on Twitter: @DrivenMind99)
OK, CAN WE CHAT?
WOW: Seems spendy, but good value for rock stars on a budget; V6 has V8 guts; rec-room roomy; looks rich from every angle; nickel accents look rich; great drive.
HMMM: Tidy interior, but a touch underwhelming; wheels look too small; nose is a bit too upright and front is long for no apparent reason; please, no more pudding-colored interior.

GARRY'S LINE OF THE WEEK
It's like my own private jet!


My, what a long nose you have . . .


Hyundai gives you wings.


Who needs a V8, anyway.


Nickel is the new chrome.


Built-in wristwatch.
Jeff Melnychuk is Wheelbase Media's managing editor. He can be reached on the Web at www.theoctanelounge.com  by clicking the contact link. Wheelbase supplies automotive news and features to newspapers across North America.