Fakes are prevalent in the fashion world, but unwittingly
buying a knockoff of a purse or a watchlikely won't kill you
By KELLY TAYLOR
WWW.WHEELBASEMEDIA.COM
Counterfeit auto parts are a multibillion-dollar drain on the industry, and it's so pervasive, even carmakers can be ripped off.
Maysa Razavi, anti-counterfeiting manager for the International Trademark Association, said at least one luxury carmaker has fallen prey to ripoffs.
"It's not just consumers, but sophisticated buyers who get tricked," she said, declining to name the carmaker.
In 2015, the United States reported 132 seizures of counterfeit auto parts while Europe reported 637 seizures. In total, the U.S. counterfeit market was about $1.3 billion in 2015, with automotive worth about three percent of that figure, according to the U.S. Customs and Border Patrol.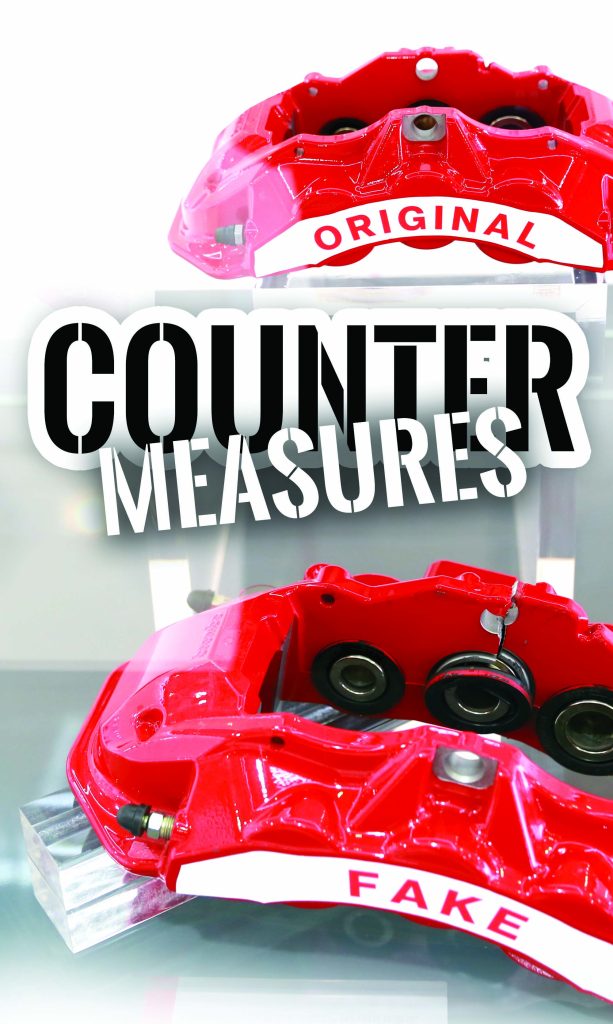 Counterfeiting (when an unscrupulous individual or company puts a recognized brand name on knock-off product that is most likely inferior) has hit car parts of every description, from luxury materials to fasteners, air bags and brake components, Razavi said.
Paolo Rezzaghi knows that all too well. He's the intellectual property rights manager for Brembo, maker of high-end braking systems for motorcycles and automobiles. As standard or optional for many new sports and luxury cars, and also available in the aftermarket, Brembo brake products are in demand and command a premium.
It's demand that counterfeiters in China and Europe are only too happy to fill. It's costing Brembo millions in lost sales and in the war against counterfeiting. Brembo employs two staff at its Italian headquarters in Spezzano, Italy, near Milan, and about 20 more in companies and law firms around the world, just to fight counterfeiting.
"We estimated the amount at $5 million U.S.," in lost sales, Rezzaghi said. "We now think we underestimated."
Reuters news agency in 2014 reported that Aston Martin was recalling more than 17,000 cars after discovering a Chinese sub-supplier used counterfeit material, falsely presented as a DuPont proprietary plastic, in a part. There were no reports of crashes, though 22 of the accelerator pedal arms failed, rendering drivers incapable of adjusting engine speed. In response, Aston Martin began buying the part directly from a registered DuPont distributor.
For a display at the Beijing Auto Show in China, Brembo put a fake brake caliper to the test, next to an authentic Brembo caliper. Using a special device to apply pressure, the fake caliper snapped while the authentic caliper held.
Spokeswoman Caroline Fallara said the counterfeit calipers are cast of an unknown alloy, while Brembo's are made in its own factory using proprietary aluminum.  "Some of the motorcycle (calipers) say 'Made in Taiwan.' Brembo does not manufacture in Taiwan," she said. "Some of the fakes are made in a garage."
Protecting consumers and protecting the brand is Rezzaghi's mission.
"This is a safety problem and a brand-image problem for Brembo quality," he said from Spezzano in a telephone interview with Wheelbase Media. "If someone is buying a fake and has an accident, it could be a big problem; our brand awareness could be diminished by a fake."
Razavi said safety is proving to be a major concern in the fight against fakes. She pointed specifically to 2011, when a flood of counterfeit air bags hit the market.
"The air bags would go off, explode in the faces of the test dummy and shoot out fire. The videos are kind of scary to watch."
While China has been a leading source of counterfeit products, both Razavi and Rezzaghi say the Chinese government is actually trying to crack down.  "The Chinese government is trying to help," Razavi said. "It is focused on the issues and has really good laws on the books, but it's so hard to implement and go through everything that's exported.  Rezzaghi said Brembo is working closely with customs authorities in China and around the world to stop the flow of counterfeit parts.
Razavi said a big problem for car parts is how easily they are hidden. She said a customer who has an air bag replaced isn't going to tear the dash apart to check the label. The same holds true for other components that might be hidden under layers of equipment and covers in the engine bay.
Razavi and Rezzaghi have a series of tips to help consumers.  Both say online shopping is a minefield.  "Where are you going to get your car fixed?" Razavi said. "Go to an authorized dealership, use parts from the car's manufacturer.
"If you do buy things online, remember, if the deal is too good to be true, it usually is," she said. "If you're buying an air bag and it's less than $400 (US), it is too good to be true and is likely counterfeit."  Yet Rezzaghi said even that longtime piece of advice isn't necessarily helpful anymore. He said counterfeiters are raising prices, not only to improve their profits, but also as a shield against skeptical consumers.  "It used to be if it costs less than the original, be careful," he said. "Now, with counterfeit products, the price is comparable to the original product."
Rezzaghi said consumers should watch where the parts are coming from. At the retail level for sale to consumers, no Brembo products are made in China, even though Brembo does have plants in China, those plants supply only carmakers. As well, he said Brembo does not sell individual components of braking systems to consumers, such as calipers, only whole kits that include the calipers, pads, rotors and brake lines.
Individual components are sold only to carmakers.
Finally, and it's advice that should apply to any legitimate aftermarket supplier, check the website. Rezzaghi said www.brembo.com will supply a list of legitimate authorized dealers.
Kelly Taylor is a feature writer with Wheelbase Media. He can be reached on the Web at www.theoctanelounge.com by clicking the contact link. Wheelbase supplies automotive news and features to newspapers across North America.