City driver and a giant truck make for quite the odd couple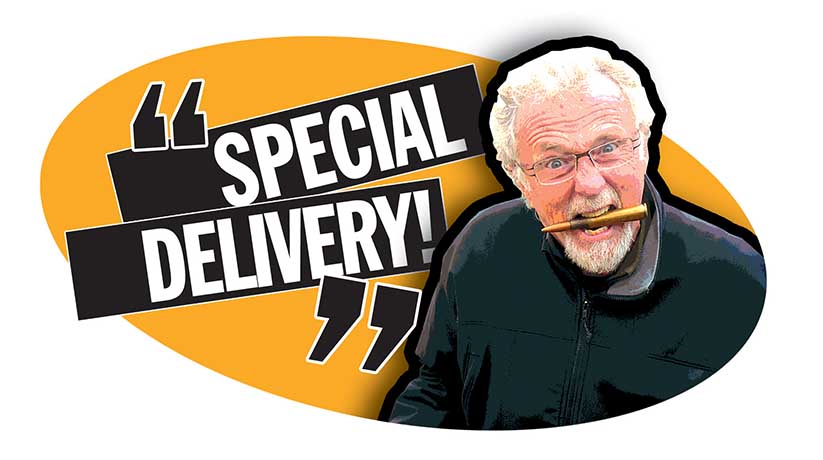 What test car is Garry bringing us this week?
We literally have no clue what he's bringing us until it lands in our driveway, but who are we to doubt Garry Sowerby, who has a bazillion Guinness records for around-the-world driving? That's a bazillion more than we have, after all. Come along and find out as we drive 'em, dirty 'em and shoot 'em with our phone cams. These are real-life, no-glam reviews.
DIRT ON GARRY
Garry has a twin brother, Larry, and together they bought a 1967 Ford Mustang to share while attending
college in 1969.
By JEFF MELNYCHUK
This thing is a monster. Huge. Garry says it's proportioned like an off-shore race boat, only backward.
I'm not so sure about that, but for the first time in a long time, I have no way to properly evaluate a vehicle that Garry has dropped on the doorstep. Like, at all. I usually write about "normal" passenger cars and not farm implements, so testing this one is a bit of mystery.
This new-for-2015 Silverado HD 2500 has a four-door cab and an eight-foot box – a long and rather unusual combination – and is built for pulling boats and horse trailers and hauling big rocks, probably all at the same time. Guess I'll take it to get . . . a coffee, then.
The truth is that most "light-duty" trucks are far too capable for the people who buy them. So who really needs a "heavy-duty" truck? Someone must.
Hopping up – way up – and in with my flip-flops and surfer shorts and T-shirt, I feel like a poser. A total fraud. I need overalls, workboots and a hard hat or a stetson to operate this baby. The proper uniform is a must.
It seems ridiculous to even drive this $76,110 2500 HD – a vehicle that can tow about nine metric tonnes – without something other than a 12-ounce dark-roast coffee as the ultimate payload. But off we go. It's like flying around in an empty cargo plane to deliver a letter.
As capable as I'm sure it is – since there is no real way to test it out – it's like living with an elephant and not a vehicle. It won't fit it any garage that has a closing door. It has to live outside. Nor does it fit in any normal parking spot, whether at the mall, on the street or at the coffee shop. Let me make this clear: you're parking at home and at the job site and at the very back of the mall lot next to all the those weird vacationers overnighting with their motorhomes. And that's pretty much it.
The nice part about this particular Silverado HD is that it's decked out inside with luxury-like trappings. For more than $75,000, one would expect nothing less, except the door panels are just functional plastic. The base price is $50,920.
And despite a stiff suspension that has to control the motion of immense payloads, the HD rides pretty well, without hopping around, partly because the distance between the front and rear wheels of this rig is 14 feet, which is longer than the average compact sedan.
Of all the options, the 397-horsepower Duramax Diesel (with 765 pound-feet of torque) is the most expensive, and useful, at close to $10,000. It clobbers the base gasoline V8. The Allison six-speed automatic transmission adds $1,445. The $1,600 polished 20-inch wheels cost nearly as much as the the Z71 off-road package.
Because you're dealing with a huge truck, every add-on is bigger with a matching cost. Most, like the backup camera, climate control and Bose audio system are much appreciated.
Unfortunately, most of the real capability of this truck will go to waste, even by people who actually need such a workhorse. Even more so for someone like myself with his piping hot 12-ounce cup of dark-roast coffee riding around in the cupholder.
(You can follow Garry on Twitter: @DrivenMind99)
OK, CAN WE CHAT?
WOW: The real deal when it comes to pickups; pretty imposing; surprisingly smooth ride; built for real work; price; towing capacity; gets coffee, no problem; diesel rocks
HMMM: Need to change your parking habits; likely never use its full capability; all the good stuff costs extra; 10 grand extra for the diesel.
Jeff Melnychuk is Wheelbase Media's managing editor. He can be reached on the Web at www.wheelbasemedia.com by clicking the contact link. Wheelbase supplies automotive news and features to newspapers across North America.