If Steven King and John Carpenter made a baby . . .
What test car is Garry bringing us this week?
We literally have no clue what he's bringing us until it lands in our driveway, but who are we to doubt Garry Sowerby, who has a bazillion Guinness records for around-the-world driving? That's a bazillion more than we have, after all. Come along and find out as we drive 'em, dirty 'em and shoot 'em with our phone cams. These are real-life, no-glam reviews.
DIRT ON GARRY
In one month alone, Garry drove across Canada two times on fuel-economy challenges.
By JEFF MELNYCHUK
"I think we should just sell all our other cars and each get one of these."
Garry likes "Big Red," which is the name I've given to the spit-shined Camaro ZL1.
"It's loud. Your neighbours will hate you." (That's OK, they already do.)
The ZL1 makes a ridiculous popping sound out the quad tailpipes when you let off the gas, kind of like one of those fancy racing boats idling around with the exhaust drowned out by the water.
"Blubala-blubala-blubalaaaaa."
Let's get one thing straight about this Chevy. Subtle, it ain't. Evil and sinister looking, yes. Fun? There are few words to quantify that, but I'll begin by saying the ZL1 is a sensational handling car. Utterly sensational.  It just does not lean at all while cornering. Turn the wheel and the car turns without lunging over one of the front wheels. Amazing. Magnetic ride control and front tires that are a foot wide can take most of the credit.
The transmission? Also amazing. The mouse fur (a suede of some sort) on the dash? Not so much. And who really cares if the nose is cartoonish and the seats have puckered corners. This thing is practically too good to be true.
It has 580 horsepower, which sounds impressive, although not as impressive as the 662 in the competing Ford Mustang GT 500, but it's enough. Like, really, it's just enough. Out on the highway, the supercharged 6.2-litre V8 doesn't pull all that hard. I felt the same way with the Cadillac CTS-V coupe, which has a similar engine.
Although both engines are variations of the V8 found in the 638-horsepower Corvette ZR-1, my seat-of-the-pants-o-meter thinks a 505-horsepower 2013 Corvette Z06 would kick the ZL1's butt in a side-by-side dual at 80 mph. That likely has to do with weight; the ZL1 is 1,000 pounds heavier. The Camaro is a bit of a couch potato, it seems.
But, it has a back seat. And a trunk, although it's pretty small and the opening isn't much bigger than the top of a cookie jar.
It also has the optional carbon-fibre hood insert. Lift up the hood and a duct hangs off the bottom. It appears to help get air through the radiator to keep that little engine cool. That's right, I said little. When you lift the hood to see 580 horsepower, you expect to see something magnificently huge, but it's a bit unimpressive. It's not puny. It's just not physically large. It has to fit in the Corvette, after all.
The ZL1 has its flaws, of course. The roof/trunk stripe is a massive dull-looking decal and the spot where the key goes into the column is made of soft plastic and was all chewed up from repeated stabbings from previous drivers. And the chin spoiler looks like the edge of a boardroom table.
But I could care less. For 55-ish grand you're not going to have much more fun in a car, or make as big a statement.
In the grand scheme of street driving, it doesn't matter that the Ford GT 500 is faster and has more power than the ZL1. Both cars will never be used to their full potential on the street, which means that image is the primary reason for buying in. In that respect, I don't know if anything can beat the ZL1.
Yes, Garry, let's sell all our cars and each get one of these.
OK, CAN WE CHAT?
WOW: Sound; steering; suspension; gear shifter; attitude; stance; love it or hate it, everyone looks; value; don't want to get out of it.
HMMM: Forget winter; teeters on the edge of cartoon-y; what trunk?; most non-car people will hate you and the rest will be jealous; big and heavy, yet not very roomy inside; visibility; black wheels on test car never clean, even after cleaning.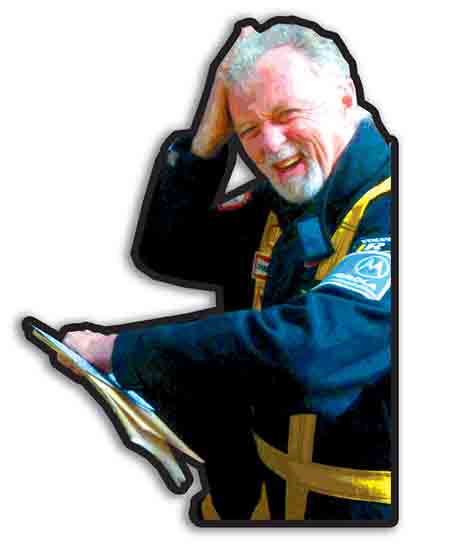 GARRY'S LINE OF THE WEEK
It has 6,000 miles and this is the third set of rear tires. Journalists!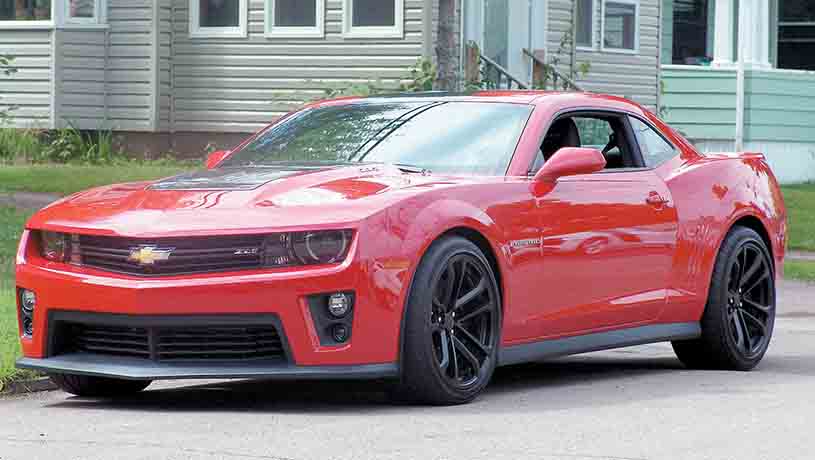 Evil. Sinister. Like the love child of John carpenter and steven king.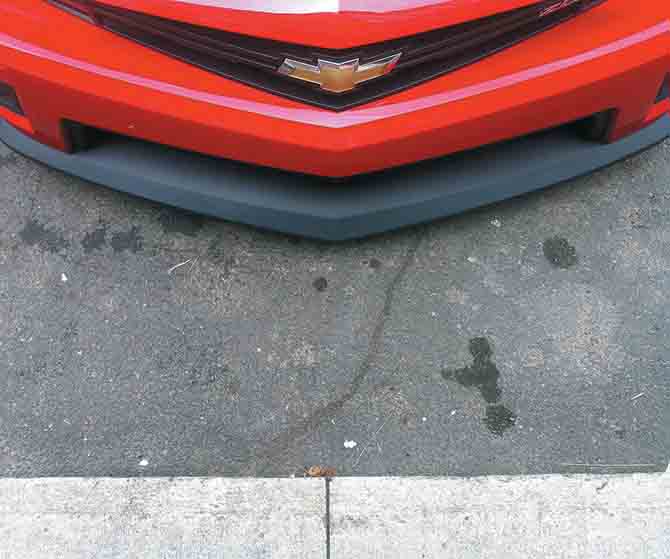 Needs curb feelers.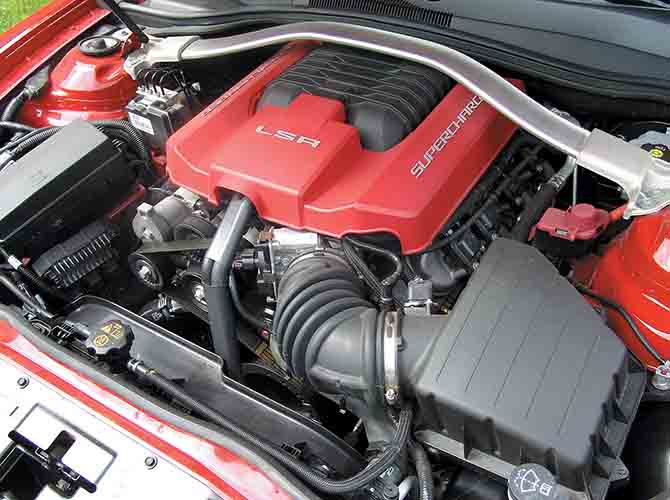 Where's the rest of it?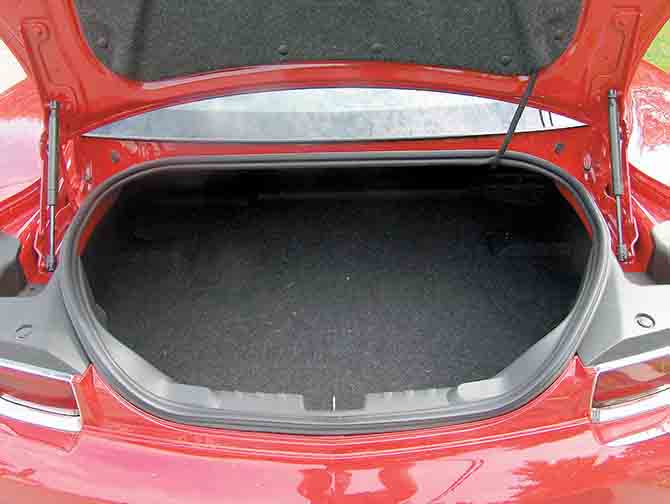 Not mafia friendly. At all.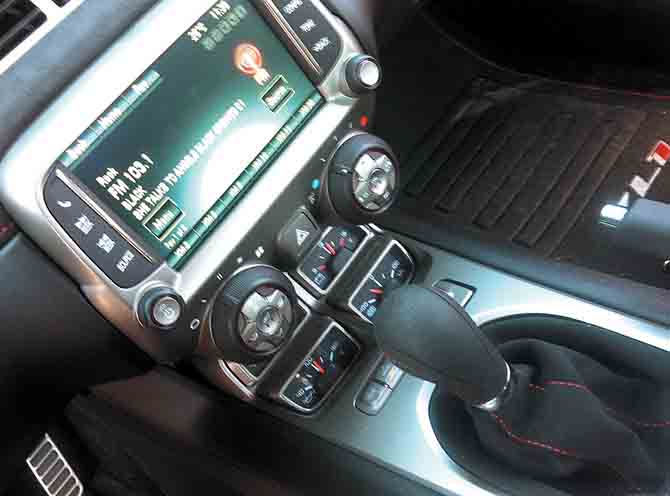 Good spot for gauges you never use.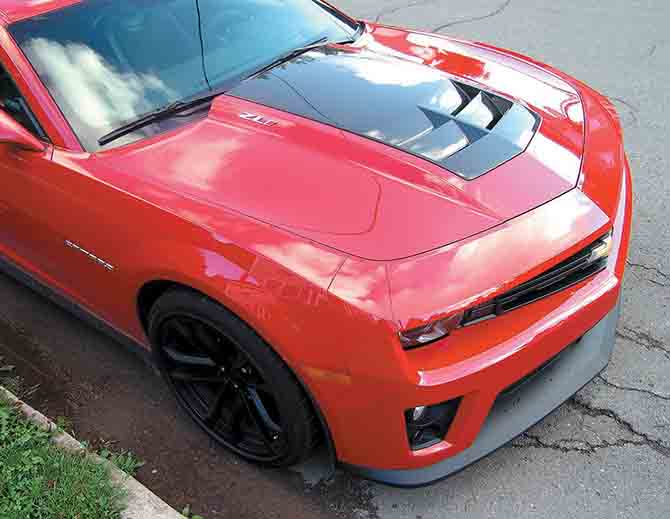 Get this optional carbon-fiber insert
Jeff Melnychuk is Wheelbase Media's managing editor. He can be reached on the Web at www.wheelbasemedia.com by clicking the contact link. Wheelbase supplies automotive news and features to newspapers across North America.