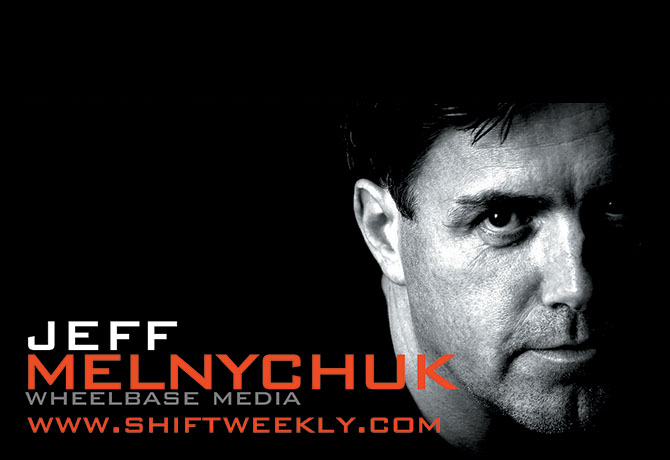 By JEFF MELNYCHUK
www.shiftweekly.com
Being brought up in the publishing biz in the late 1980s and early 1990s, it was a given that you were going to get your work done on a Macintosh computer.
The best thing about Macintosh computers at the time, relative to other brands, was that you didn't need to be a computer person to use them. You were a just a graphic artist or a designer who happened to create stuff on a computer.
The iPad, iPhone and iPod epitomize the company's mastery at what I would term as elegant technology.
The contrast is usually apparent when you go from using your i-device on its own to plugging it into your car. You're often met with a clunky menu, operated with dials and knobs, that doesn't have all the functions of your iPod/iPhone/iPad.
Back in the fall of 2009, while I was on a road test of the then-new Lexus HS 250h hybrid, I spent much of the time cursing the high-dollar optional audio system because I just couldn't actually get to the songs I wanted to play.
"Why don't they just use Apple's software to run an Apple device!" I shouted at the windshield.
Well, it looks like I'll be getting my wish, at least partly, as many automakers are pledging allegiance to Apple's new "CarPlay" technology that is touted as a "smarter, safer way to use your iPhone in the car." With it, you will operate your  iPhone through the vehicle in much the same way you would use it on its own. The way you're used to.
It's important to note that things have changed a lot since that Lexus and not just in terms of buttons and menus. With "cloud"-based technology, the world is shifting from downloading and buying music and software, to renting access to it over the Internet.
For example, we used to buy a software bundle from Adobe Systems (Photoshop, etc.) for the work computers and then have to install it all. That was a big one-time cash outlay and we were also instantly obsolete as the company was already at work on updates.
Now you can subscribe and pay a small monthly fee and you know that you're always using the latest software versions. From Adobe's point of view, it doesn't need to roll out major releases. It can make large or small changes on the fly. It's brilliant, really.
The same "cloud" technology can also be used in automobiles with new operating software being automatically downloaded to add new buttons and features to your touch screen.
For music, there will be a time where you won't need to bring your iPod/iPhone along as the car will connect with the "cloud" and stream your music selections, using an in-car interface that's a lot like that of your i-device. Hey, why change something that works so well?
Whether you even like Apple, incorporating CarPlay is a smart first step since it better blends the most used electronic device outside the car (the iPhone) with the car itself in a way that people are used to using it. And it gets Apple's foot in the door for more later on.
Sounds smarter and safer to me.  – Jeff
Jeff Melnychuk is Wheelbase Media's Managing Editor. He can be reached on the Web at www.shiftweekly.com by using the contact link. Wheelbase supplies automotive news and features to newspapers across North America.
Does this look familiar?  If it does, that's exactly the point.