By Lisa Calvi
For The Octane Lounge
Follow Lisa on Instagram: @FrontLady
#eastcoasttester
It took me a few hours of buzzing around town to catch on.
The drivers of certain oncoming vehicles were waving at me. Not frantically signaling smoke pouring from my vehicle but casually, a raised arm, a flick of the wrist, a too-cool-for-school lifting of two fingers off the steering wheel.  At first, I thought it could be a burgeoning Canadian custom in these scary times of self-isolation and social distancing. Are people waving in a show of solidarity like the patriotic songs emanating from balconies all over Italy?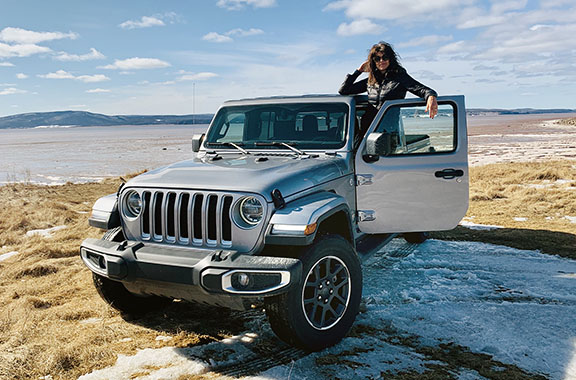 No. It was because I was driving a Jeep. Not just any Jeep. I was behind the wheel of a 2020 Jeep Gladiator Overland (price as tested: $64,085), the pickup truck sibling of Jeep Wrangler, a vehicle with a global cult following.  The new pickup truck from Jeep (Fiat Chrysler Automobiles) has already garnered high praise including the North American Truck of the Year award in January 2020.  Once I realized the wavers were also driving Jeeps, I recalled the custom of waving to express kinship amongst owners of the iconic brand's vehicles. I had already returned waves to a few drivers. Was my exuberant wind-stirring wave on par with the cool and collected Jeep waves coming at me on the road? Perish the thought that I wave incorrectly and give myself away as an impostor. Did only certain types of Jeeps elicit a wave? Was I only supposed to wave at Wrangler owners? Could I acknowledge Cherokee drivers, too?
So many questions.
In 1940, when the United States knew it would become involved in World War II, the Army contacted 135 companies to create working prototypes of a four-wheel drive general purpose vehicle that could replace the horse and the motorcycle.  Two companies responded, Willys-Overland, which could not cobble together a design in the Army's short timeframe, and American Bantam Car Company, a company that was making copies of British Austin cars.  American Bantam Car quickly put together a prototype but the U.S. Army didn't have the confidence that the small company could produce the number of vehicles it required so it gave the designs to Willys-Overland to build what became the Jeep.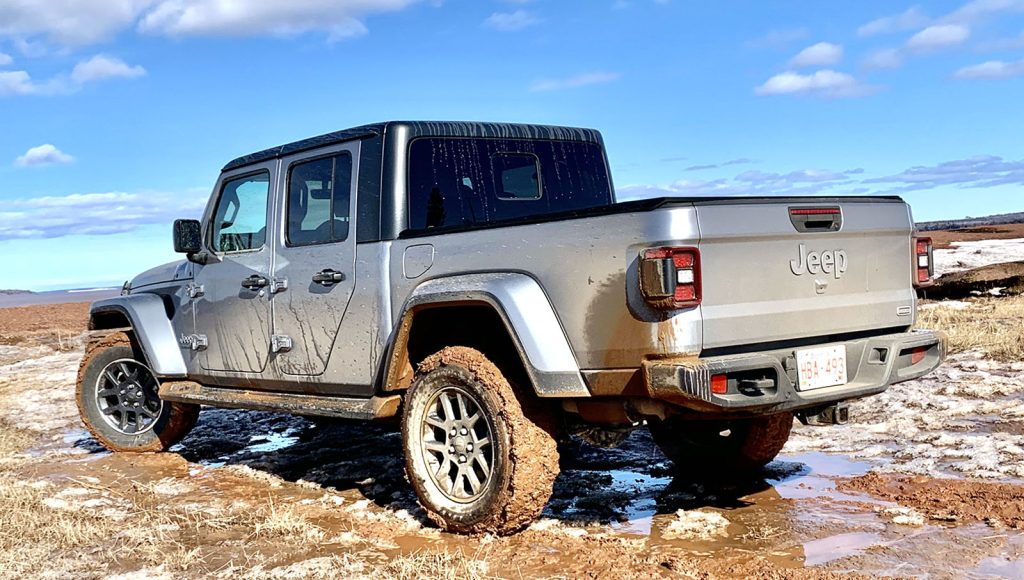 After the war, in an effort to give the jeep a civilian identity, Willys converted its military jeep into the CJ-2A, the 'Civilian Jeep'. With its fun, optimistic paint colours like Pasture Green with Autumn Yellow wheels and Harvest Tan with Sunset Red wheels, the CJ would continue to be produced for about four decades until the Wrangler replaced it in 1986. Jeep products on the market today are numerous but no one is as recognizable, as storied, or perhaps as desirable as the Wrangler.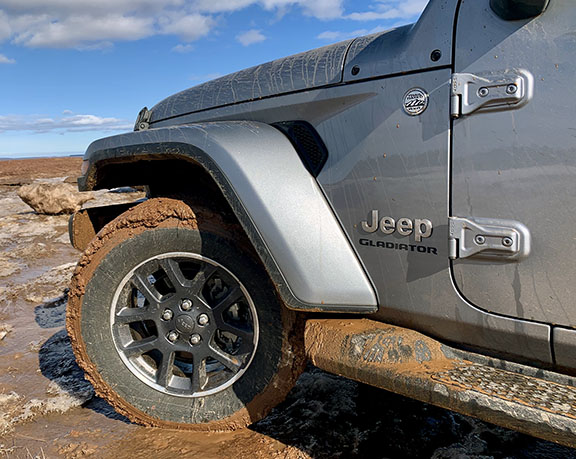 Then comes the 2020 Gladiator, a Jeep Wrangler with a pickup bed. It's not the first time Jeep has had a pickup truck nor is it the first Gladiator. In the 1960s, Jeep introduced the Gladiator pickup truck. The brochure claimed it was virtually indestructible and the "… most loadable, roadable, work-loving truck ever built."
It could tow almost 4,000 pounds and, according to Jeep, it hugged the road and cornered well. With its unique 4×4 system, the Gladiator was the first off-road vehicle to have independent front suspension, along with its platform-sharing stable mate, the Wagoneer.  In 1986, Jeep brought to market the Comanche midsize pickup, a variant of the Cherokee, which was in production until 1992.
So, what is the Gladiator like to drive? Well, like a truck, but also very much like a Jeep Wrangler. Jeep has done its job and done it well.  The 2020 Gladiator is powered by the tried-and-true 285-horsepower 3.6-litre Pentastar V-6 and an eight-speed automatic transmission or six-speed manual. I love that Jeep decided to offer the truck with a stick.
A diesel variant is set to arrive later this year (hopefully still on track) with a turbocharged V-6 3.0-litre engine mated to an eight-speed automatic transmission with 260 horsepower and a meaty 442 pound-feet of torque. With a much more robust chassis than the Wrangler Unlimited, the Gladiator can tow up to 3,469 kilograms (7,650 pounds) with a payload capacity of 725 kilograms (1,600 pounds).  In Canada, it's available in Sport, Sport S, Overland (my tester) and Rubicon. The true off-roaders are the Overland and Rubicon with two advanced 4×4 systems. The Command-Trac 4×4 system, standard on Sport and Overland, and the Rock-Trac 4×4 system on the Rubicon. The off-road capability of Jeep is renowned, and the Gladiator is no different. It can ford through up to 76 centimetres (30 inches) of water and has a ground clearance of up 28.3 centimetres (11.5 inches), depending on the trim level.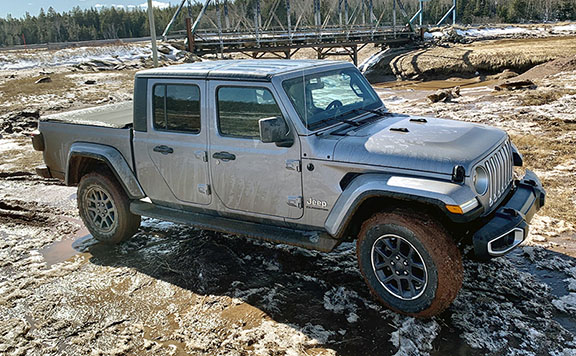 The feeling of freedom that comes with being 'out there' is enhanced by a roof that comes off, a windshield that folds down and removable doors, all of which are easily removed and replaced. The configuration possibilities are limitless.  Inside, it's pure Jeep Wrangler. It feels premium but well-protected in case of mud showers, like the push-button start that has a weatherproof surround. The controls are easy to locate and use.  The rear seats have more than ample legroom and they can be locked in place to provide secure storage behind the seat back. They can also be folded flat. The Gladiator is chock full of inventive storage solutions.  Years ago, I remember a young man telling me all he needed in life to be happy was a Jeep, a golden retriever puppy and a girlfriend. He figured the first two items on his list would attract the third.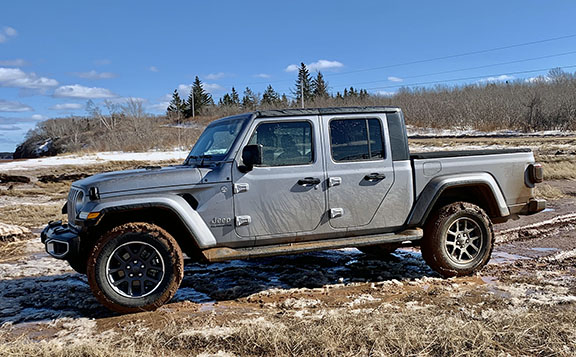 I'm sure the 2020 Jeep Gladiator is out there somewhere in the rocky, muddy impossible terrain playing matchmaker.  As for me, my vigorous side-to-side wave is not getting a response. Why isn't anyone waving? Oh yes, I've been cast from the family. I'm no longer driving the 2020 Gladiator.   I'm a mere mortal now.