By MALCOLM GUNN
www.wheelbasemedia.com
Some automakers seem to have given up on the midsize-sedan market, abandoning the segment altogether. Others are planning to quit, or have reduced the number of available models.  Not so for category leaders such as Nissan, a company that's stepping up its sedan game with significant investments in technology, design and, in the case of the Altima, standard all-wheel-drive in Canada. Nissan is making this move to stand out in the category and to provide all-weather utility-vehicle security in a traditional sedan package that's smooth, sporty and light on its feet.
For the 2019 model year, the Altima has been reengineered from top to bottom. A lower hood helps slice the air better, and a dramatically different chrome-bordered grille extending to the base of the body is in perfect harmony with the rest of the radical (for a Nissan) design. The Altima's overall dimensions aren't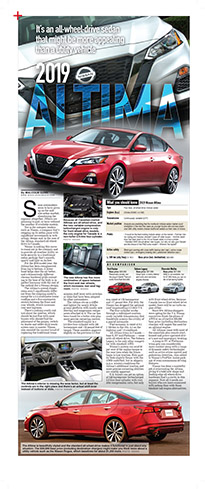 significantly different from the outgoing model's, except for a 2.5-centimetre lower roofline and a five-centimetre stretch between the front and rear wheels, which increases rear-seat legroom.  There's nothing overly radical about the interior, which should be just fine with most buyers who should find the placement of the gauges, switches, knobs and tablet-style touchscreen easy to master. Nissan also resisted the current trend of replacing the traditional transmission shift lever with switches or dials that have been adopted by other automakers.
The Altima sits on a stiffer and lighter (by nearly 20 kilograms) platform with mostly new steering and suspension components attached to it. The car has been tuned for a better ride plus more precise cornering control. The standard engine is a 2.5-litre four-cylinder with 182 horsepower and 178 pound-feet of torque. Those numbers improve slightly on the previous 2.5 that was rated at 179 horsepower and 177 pound-feet. For 2019, the Nissan has dropped the optional (and longstanding) 3.5-litre V-6. The four-cylinder works through a redesigned continuously variable transmission that thankfully mimics the civility of a geared automatic.  Fuel economy is rated at 9.1 l/100 km in the city, 6.5 on the highway and 7.9 combined.
All Altima trims in Canada — base S, SV and Platinum — come with all-wheel-drive. The Subaru Legacy is the only other competitor with standard AWD.  Nissan's system can send 50 per cent of the engine torque to the rear tires when the fronts begin to lose traction. Ride quality feels slightly firmer with the AWD underfoot, but in slippery (a.k.a. winter) conditions the Altima's additional traction and more precise cornering abilities are readily apparent. U.S. buyers can get an optional 248-horsepower turbocharged 2.0-litre four-cylinder with variable compression ratio, but only with front-wheel-drive. Because Canada has no front-wheel-drive model, there will be no turbo engine either. Since few Altima shoppers were opting for the V-6, Nissan executives think the pluses of AWD at an attractive $29,800 base price (including destination charges) will negate the need for an optional engine.
All Altimas come with most of the essentials plus remote start, heated and power-operated driver's seat and emergency braking. A jump to SV or Platimum trims gets you considerably more content along with a range of dynamic-safety technologies such as active cruise control and pedestrian detection. Also added is Nissan's ProPilot Assist package of semi-autonomous-driving features. Nissan has done a masterful job at reinventing the Altima, giving it a bold new shape and leading-edge all-wheel-drive hardware that's a rarity in this segment. Now all it needs are buyers who are more enamored with sedans than with those blockier tall-wagon alternatives.
What you should know: 2019 Nissan Altima
Type: Four-door, all-wheel-drive midsize sedan
Engine (h.p.):   2.5-litre DOHC I-4 (182)
Transmission: Continuously variable (CVT)
Market position: Analysts are predicting that the moribund midsize-sedan market could strengthen in the next few years as younger buyers who are less enamored with utility models choose traditional sedans as their rides of choice.
Points:  It could be the best-looking midsize sedan on the market. • Familiar interior styling and features shouldn't scare off older buyers. • Another death blow has been dealt to the V-6 as Nissan sticks to a four-cylinder.  • Standard AWD should attract new buyers, but why not also give Canadians the choice of the FWD turbo model? • Where's the hybrid?
Active safety:  Blind-spot warning with cross-traffic backup alert (opt.); active cruise control (opt.); emergency braking (std.); pedestrian detection (opt.)
L/100 km (city/hwy) 9.1/6.5; Base price (incl. destination) $29,800.

Because all Canadian-market Altimas are all-wheel-drive, and the new variable-compression
turbocharged engine is only for front-wheel-drive models, the only engine for Canada
is a non-turbo 2.5-litre four-cylinder.
PHOTO: NISSAN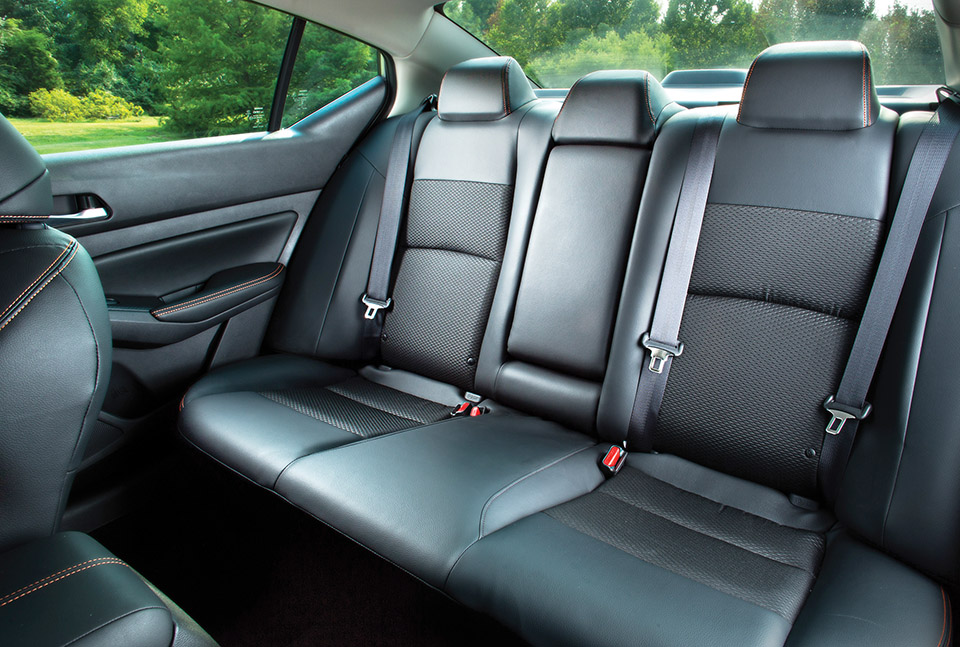 The new Altima has five more centimetres of space between the front and rear wheels,
which increases rear-seat legroom. PHOTO: NISSAN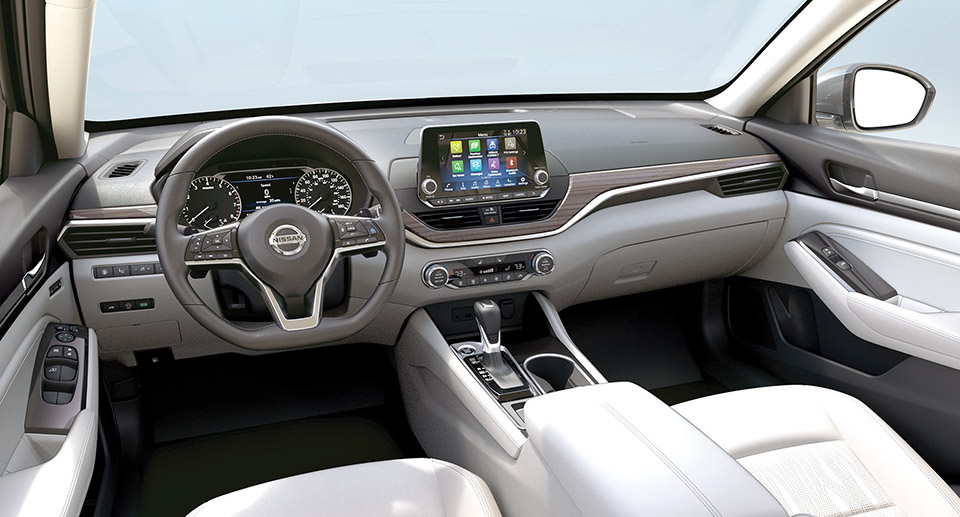 The Altima's interior doesn't wow, but at least the controls are in the right place and there's
an actual shift lever instead of buttons or dials. PHOTO: NISSAN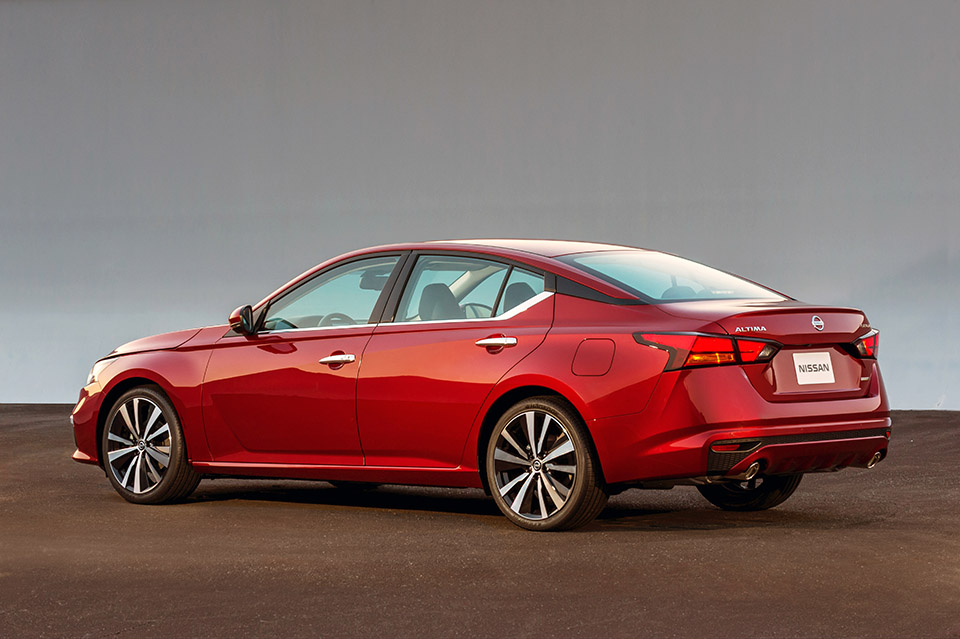 The Altima is beautifully styled and the standard all-wheel-drive makes it functional in just
about any situation. The $30,000 base price (including destination charges) might make
you think twice about a utility vehicle such as the Nissan Rogue, which baselines for
about $1,200 more. PHOTO: NISSAN
B Y  C O M P A R I S O N
Ford Fusion
Base price: $29,950
Reasonably priced, but the plug-in hybrid Titanium costs more than $40,000.
Subaru Legacy
Base price: $27,200
Great style, a roomy interior and turbo and non-turbo engine choices.
Chevrolet Malibu
Base price: $27,000
AWD is not available, but for $7,500 more you can order a fuel-saving hybrid.