By MALCOLM GUNN
www.wheelbasemedia.com
Buyers of small sedans tend to be younger first-timers, or people who live in multi-car households requiring an occasional-use set of wheels.
The 2019 Kia Forte deserves to be considered as a top pick for both groups, but it's also an acceptable alternative for typical midsize-sedan shoppers, especially those on tight budgets.
Over the years, the Forte, along with many of its competitors, has grown up (physically and stylistically) to a point where it could easily qualify as a principal family sedan. Compared to the outgoing model, the 2019 Forte is more than 7.5 centimetres longer and about 2.5 centimetres wider. The distance between the front and rear wheels remains the same. A modest gain in roof height means more overall passenger space as well as increased cargo volume. (The previous Forte bested the current Honda Civic and Toyota Corolla's current capacities.)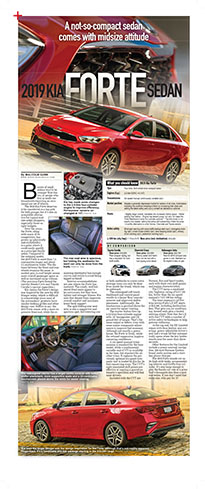 Kia claims the Forte's design was inspired by the new-for-2019 Stinger sedan, which is difficult to acknowledge since most of the automakers' products have similar-looking grilles and other design cues. Suffice to say, the 2019 Forte comes with a more expressive front end, while the remaining sheetmetal has enough curves and swirls to avoid being tagged as bland. Interior accommodations are also where the Forte has matured. The comfy, well-bolstered front seats appear to be carryovers, but they have lighter and stronger frames. Kia says that denser foam improves overall comfort and increases lower-back support. The split-folding rear-seat area is also a supportive and spacious spot, but lowering one or both seatbacks to create extra stowage room can only be done from inside the trunk, which can be awkward.
The redesigned soft-touch dashboard and control panel results in a larger floor console/armrest and improved shifter placement. Additionally, the touchscreen is perched above the air vents for easier viewing. The starter button fires up a 2.0-litre four-cylinder engine with 147 horsepower and 132 pound-feet of torque. That's the same output as before, even with some minor component adjustments to improve fuel economy. Although not exactly a powerhouse, the Forte is lively, while the retuned suspension inspires cornering confidence. A six-speed manual transmission is standard for the base model, while a continuously variable unit (CVT) is available in the base, but standard for all other trims. It replaces the previously optional six-speed automatic and is lauded by Kia for its fuel-conserving ways. The CVT's eight simulated shift points are effective at copying a geared automatic's operation and will fool most drivers.
Included with the CVT are Normal, Eco and Sport modes, each with their own shift points and engine characteristics. The CVT earns a combined city/highway rating of 6.9 l/100 km, better than the six-speedmanual's 7.6 l/100 km rating. The least-expensive (of fivetrim levels) Forte LX MT starts at $18,200, including destination fees. That gets you air conditioning, heated seats plus a heated steering wheel. Note that the LX with the CVT adds a number of active-safety technologies to help prevent collisions. At the top end, the EX Limited comes with faux-leather seat coverings, power-adjustable driver's seat and a trunk lid that automatically opens when the key holder stands near for more than three seconds.
Other features for the Limited include a power sunroof, navigation, 320-watt Harmon Kardon-brand audio system and a wireless phone charger.
The 2019 Forte stands out on its high-style looks, accommodating interior and thrifty four-cylinder. It's also large enough to play the family-car role at a price that's thousands less than a midsize sedan. If you don't need that extra size, why pay for it?
What you should know: 2019 Kia Forte
Type: Four-door, front-wheel-drive compact sedan
Engine (h.p.): 2.0-liter DOHC I-4 (147)
Transmission: Six-speed manual; continuously variable (opt.)
Market position: Despite a generally depressed market for sedans of all sizes, Automakers including Kia continue investing in them by increasing their sizes and adding the latest safety and luxury content as standard or optional.
Points:  Slightly larger overall, translates into increased interior space. • Better looking than before. • Engine has decent power, but why not make the Forte Hatchback's turbo four-cylinder optional? • Top-line model is not exactly fully loaded, adding the extras will substantially inflate the price. • A worthy alternative to small Honda, Chevrolet and Toyota sedans.
Active safety:  Blind-spot warning with cross-traffic backup alert (opt.); emergency braking (opt.); smart cruise control (opt.); lane keeping assist (opt.); drowsy driver warning (opt.); pedestrian warning (opt.) L/100 km (city/hwy) 7.7/5.9 (CVT); Base price (incl. destination) $18,200.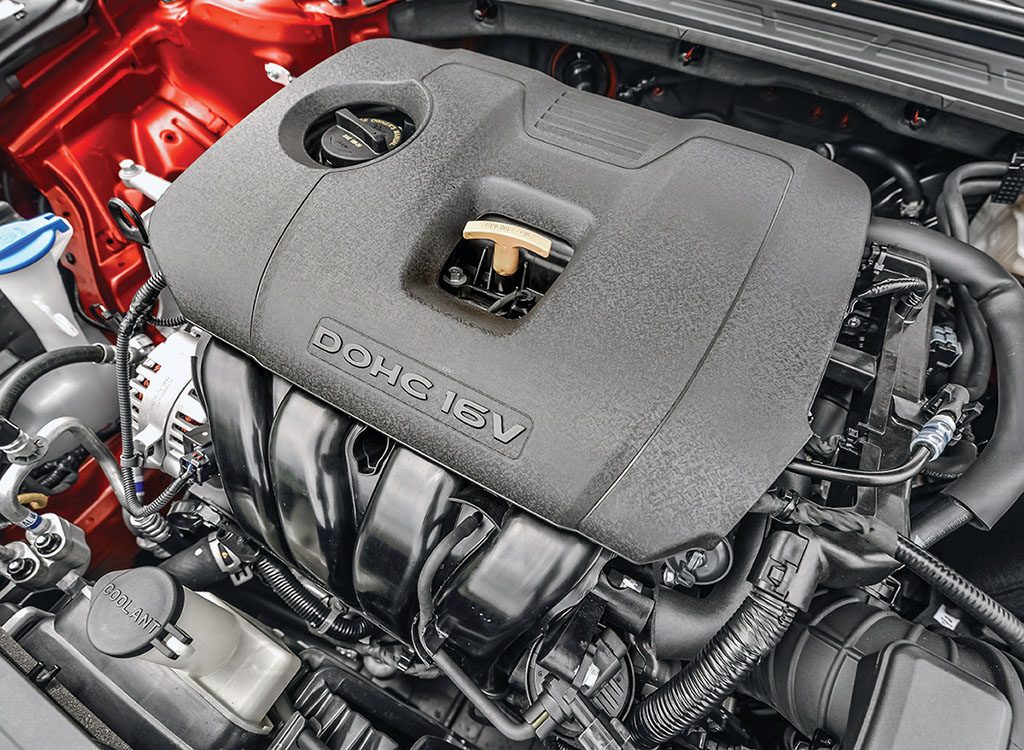 Kia has made some changes to the 2.0-litre four-cylinder engine to improve efficiency.
Horsepower remains unchanged at 147. PHOTO: KIA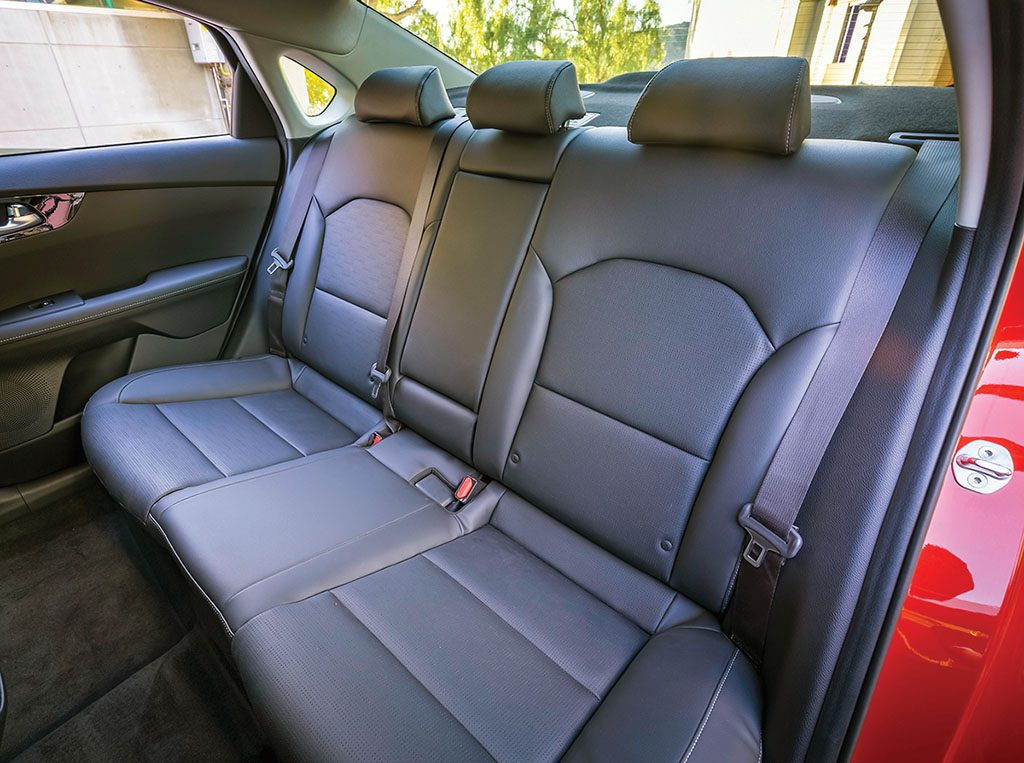 The rear-seat area is spacious, but folding the seatbacks forward can only be done
from the trunk. PHOTO: KIA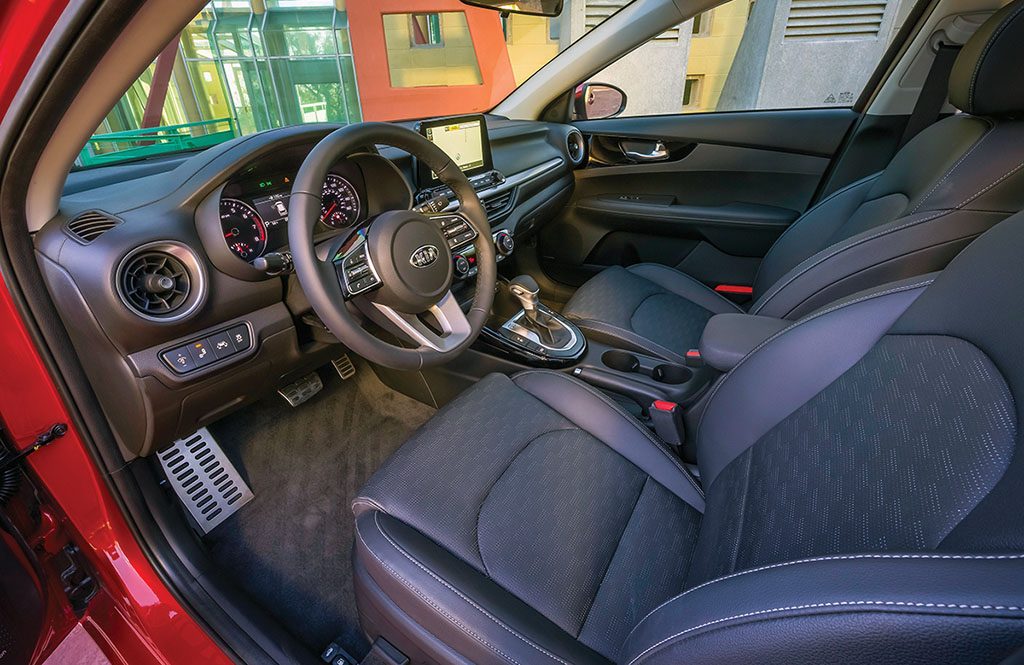 The redesigned interior has a larger center console with better shifter placement, more
supportive seats and an eight-inch touchscreen placed above the vents
for easier viewing. PHOTO: KIA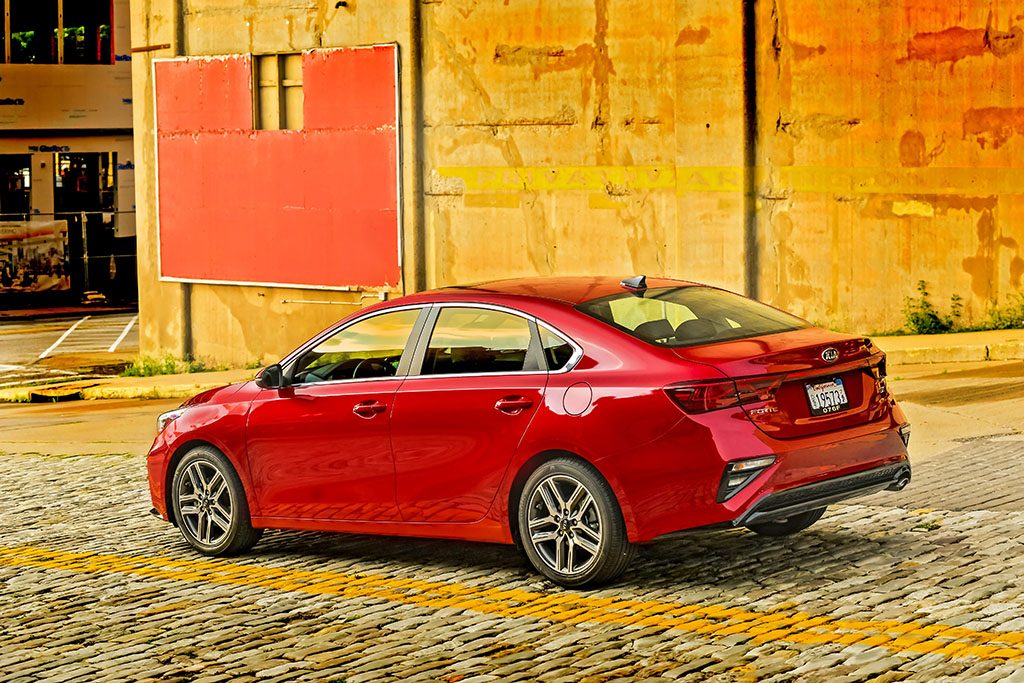 Kia says the larger Stinger was the design inspiration for the Forte, although that's not
readily apparent. Regardless, it's a handsome and tidy package starting
in the $18,000 range. PHOTO: KIA
B Y C O M P A R I S O N
Toyota Corolla
Base price: $18,500
Plain-wrapper styling, but has a reputation for solid build quality.
Chevrolet Cruze
Base price: $22,900
Roomy sedan and hatchback can be had with a fuel-sipping turbo-diesel.
Volkswagen Jetta
Base price: $22,700
New-for-2019 compact also grows in size. Standard turbo engine is easy on gas.