By MALCOLM GUNN
www.wheelbasemedia.com
The longest-serving member of BMW's X family dates back to the dawn of the 21st century, and was the first BMW vehicle built in North America at the automaker's plant in Spartanburg, S.C.  Now into its fourth generation, the X5 Sports Activity Vehicle sheds its benign appearance for a more aggressive look, headed by a dominating grille.  It's hard to make a boxy utility vehicle look anything but, but BMW mostly succeeds with shapely sheetmetal along the door panels and on the two-piece rear liftgate/tailgate.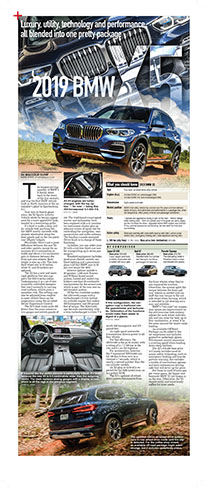 Physically, there's not a great difference between the new X5 and older models, except for an increase of 6.5 centimetres in width and about a 2.5-centimetre gain in distance between the front and rear wheels. Body height is also up a bit. The standard wheel size is 20 inches, while 21- and 22-inchers are optional.  The X5 has a new and more rigid platform that also supports the 2019 3-series sedan. Underpinning it is a set of electronically controlled dampers that react instantly to varying road surfaces, which gives a smoother ride. The settings can also be adjusted from comfort to sport (which firms up the suspension) using the so-called Driver Experience Control.
The X5's dash looks quite different than the more conservative gauges and switch panels of old. The traditional round speedometer and tachometer have been replaced with a 31-centimetre instrument cluster plus an adjacent screen of equal size for controlling the navigation, communications and audio systems. The familiar console-mounted iDrive knob is in charge of those functions. As before, you can order your X5 with a kid-size third-row seat for transporting up to seven passengers.  Standard equipment includes quad-zone climate control, ambient lighting and a panoramic glass roof that BMW says is 30 per cent larger for 2019.  Interior options include a 20-speaker, 1,500-watt Bowers and Wilkins-brand sound system, heated and cooled cupholders and dual 20-centimetre touchscreens for the second row, which is part of the rear-seat entertainment system.
Of the two available models, the xDrive40i comes with a turbocharged 3.0-litre incline six-cylinder engine that makes 335 horsepower and 330 pound-feet of torque. The XDrive50i ups the ante considerably with a twin-turbocharged 4.4-litre V-8 worth 456 horsepower and 479 pound-feet. An eight-speed automatic transmission directs power to all four wheels. For fuel efficiency, the xDrive40i is the go-to model, with a rating of 11.7 l/100 km in the city and 9.1 on the highway. For acceleration, however, the V-8-powered XDrive50i can hit 100 km/h from zero in a claimed 4.7 seconds, which is nearly a second quicker than the six-cylinder models.
An X5 plug-in hybrid is expected for the 2020 model year, as is a potent X5 M.  The X5's updated all-wheel-drive system disconnects from the front wheels when they're not required for traction. Otherwise, the system splits the torque between the front and rear wheels as needed and can shift the rear torque to the outside wheel when turning, which is intended to aid steering accuracy and stability.  BMW's "two-axle" air suspension option (an improvement on the previous rear-axle system) adjusts for each wheel individually and can raise the body up to four centimetres, or lower it by the same amount for easier cargo loading.  An available Off-Road-Package can be added to the air suspension and includes protective underbody plates. Hill-descent control maintains a crawling speed when heading down steep inclines.
The X5's $73,650 base price in Canada includes most dynamic-safety technology such as emergency braking and lane-departure warning, but excludes a wealth of convenience options and semi-autonomous driving aids that will drive up the price.  For those in need of more people/cargo space, the bigger and brawnier BMW X7 tall wagon is on the way. Otherwise, the X5 should easily and luxuriously suffice for most needs.
What you should know: 2019 BMW X5
Type: Four-door, all-wheel-drive utility vehicle
Engine (h.p.):   3.0-litre DOHC I-6, turbocharged (335)
4.4-litre DOHC V-8, twin-turbocharged (456)
Transmission: Eight-speed automatic
Market position: BMW's first utility vehicle has evolved over the years and now delivers plenty of luxury, innovative tech and performance in a package that, while not inexpensive, offers plenty of driver and passenger satisfaction.
Points:  Upscale and aggressive styling is right on the mark. • Interior design holds nothing back. • Both six-cylinder and V-8 engines are plenty peppy, but the V-8 steals the show. • Upgraded xDrive AWD system was overdue. Pricey optional accessories are tempting, but can send the final price skyrocketing.
Active safety:  Blind-spot warning with cross-traffic backup alert (std.); active cruise control (std.); emergency braking (std.); lane-departure warning (std.)
L/100 km (city/hwy) 11.7/9.1 (3.0); Base price (incl. destination) $73,650.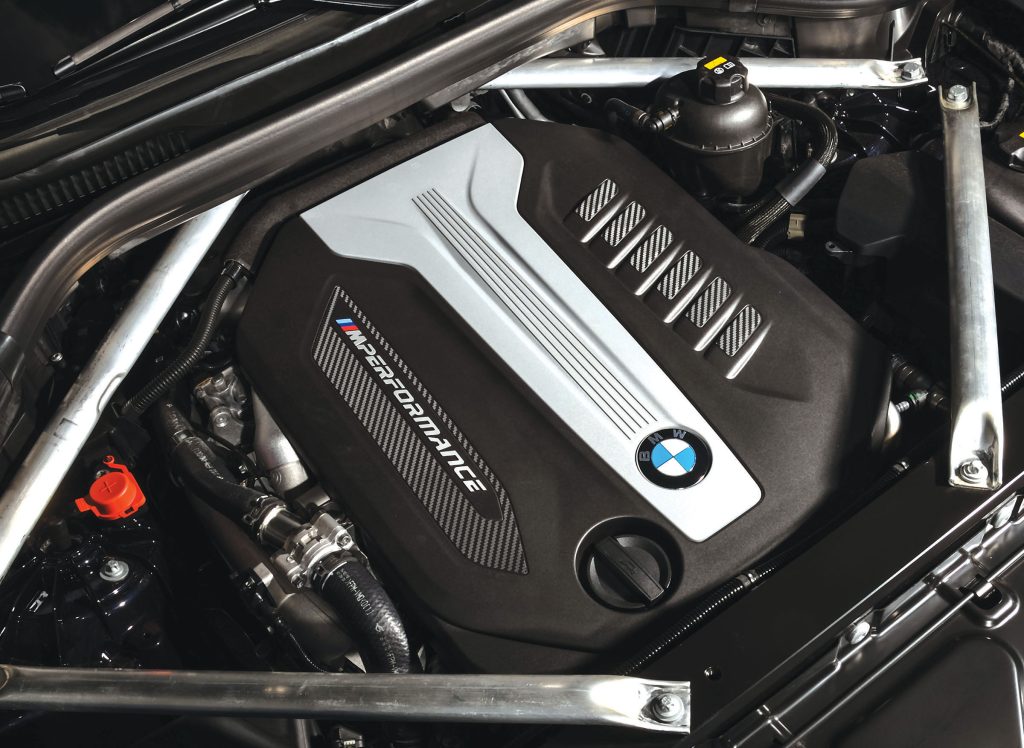 All X5 engines are turbocharged, with the top option — for now — being this
456-horsepower 4.4-litre V-8. PHOTO: BMW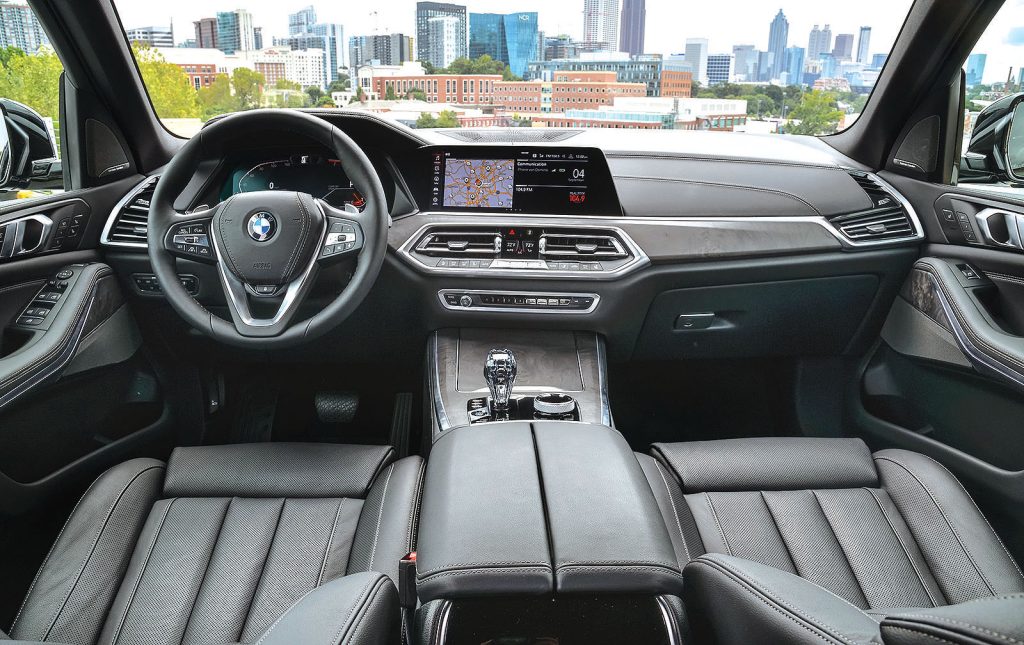 If it seems as though the centre console is particularly robust, it's likely because the new
X5 is 6.5 centimeters wider than the outgoing model. The dash replaces analog gauges
with a display screen, which is all the rage in the premium segment. PHOTO: BMW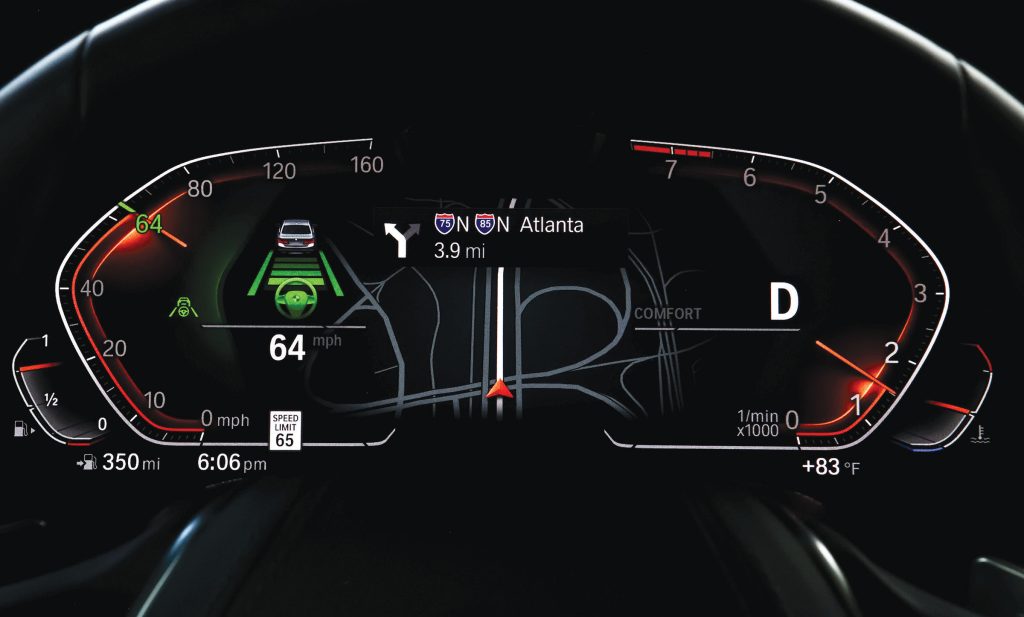 It this configuration, the navigation map is feathered into the speedometer and
tachometer. Delineation of the functions would make them easier to digest at a glance.
PHOTO: BMW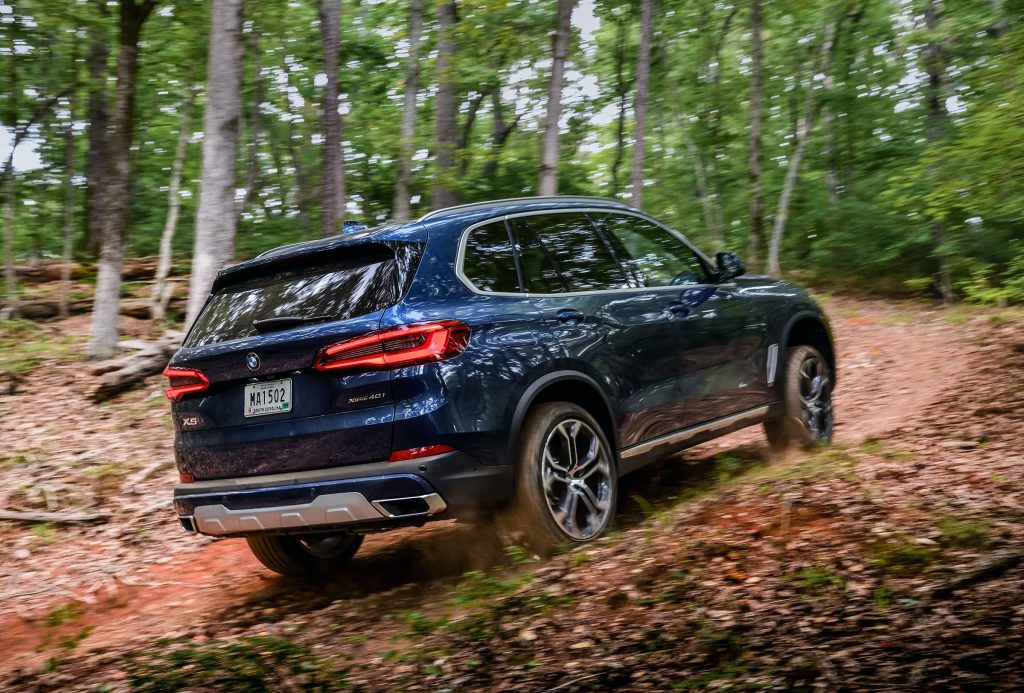 The updated xDrive all-wheel-drive system runs in rear-wheel-drive mode until tire slip is
detected. For the coffee-shop crowd, an available off-road package might seem strange,
but it includes underbody plates. PHOTO: BMW
B Y  C O M P A R I S O N
Lexus GX 450
Base price: $76,550
Luxury wagon uses body-on-frame construction and is loaded with luxury gear.
Audi Q7
Base price: $68,400
Standard turbo four-cylinder isn't that quick, but the supercharged V-6 fixes that.

TPorsche Cayenne
Base price: $76,750
The best-selling model in Porsche's lineup is smart, sophisticated and speedy.