By MALCOLM GUNN
www.wheelbasemedia.com
Nearly every Honda and Acura model is built in North America, including the Acura NSX that turns heads and turns in quick lap times on the track.
Unlike other Hondas, however, the NSX is handcrafted in the automaker's "Performance Manufacturing Center" near Columbus, Ohio. Roughly 100 technicians work alongside several robotic assistants that perform 860 spaceframe welds per car. From start to finish, each customer-ordered NSX is completed in two days.
With limited production, the only U.S.-made supercar in the world is a rarely seen machine on the streets, with only a few hundred examples sold in North America since the car's mid-2016 debut. The NSX is exported to a Canada and number of European countries as well as China and Japan.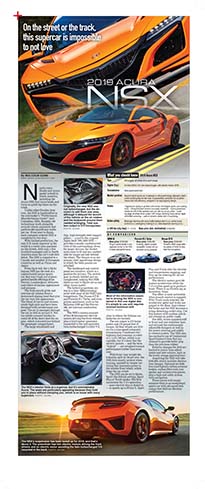 From tip to tail, the 1,765-kilogram NSX has the look of a sophisticated luxury sports car that won't look out of place parked beside offerings from Ferrari, Lamborghini, McLaren and others of similar appearance and purpose.  The wide-mouth grille and oversize air intakes front a downward-sloping hood that give the car very low appearance. The blend of curves and creases exude high style and have been designed with aerodynamic purpose. The air is managed through the car as well as around it. Not-too-subtle recessed intakes located aft of the doors feed the engine, which is located just behind the passenger compartment.
The large windshield and thin, high-strength-steel support pillars — a nod to the original Japan-built 1991-2005 NSX — provides a mostly unobstructed view of the surroundings. Even for larger drivers, the bucket seats seem to fit and are comfortable for longer periods behind the wheel. The chassis is an aluminum/steel spaceframe design to which the body panels are attached.
The dashboard and control panel are intuitive, which is a positive for drivers. The switchgear is clearly labeled and uncomplicated, making this NSX about as easy to figure out as any other Acura model.  The hybrid propulsion system is a clear differentiating point with most of the NSX's key competitors. The Nissan GT-R and Porsche 911 Turbo, and even pricier machinery such as the McLaren 570S and the Ferrari 488, are internal-combustion only.  The NSX's system consists of two 36-horsepower electric motors driving the front wheels, plus a third motor/generator connected to the mid-mounted, twin-turbocharged 3.5-litre V-6, close to where the lithium-ion batteries are located.
The net output is 573 horsepower and 476 pound-feet of torque. All four wheels are driven via a nine-speed automatic transmission. Combined city/highway fuel economy is rated at a 11.0 l/100 km, which is acceptable, but it's clear that the electric motors — and the term "hybrid" — are weighted toward performance rather than economy.  With front/rear weight distribution split 42/58 per cent, the NSX feels mostly neutral when turning, assisted by torque vectoring that increases power to the outside front wheel, which helps the car rotate.  The NSX can be set to Quiet, Sport (the default setting), Sport Plus or Track modes. The first minimizes the V-6's operation — more electric bias is dialed in — at speeds up to 80 km/h. Sport Plus and Track alter the throttle and transmission mapping, and firm up the steering for all-out performance.
The electric motors provide instant acceleration while the V-6's turbos spool up to produce boost. There is no throttle lag or hesitation. None.  The effect is most noticeable when launch control is engaged. With Track mode selected, the accelerator pedal and brake are pegged to the floor. Just release the brake and the NSX becomes a retina-detaching rocket ship. Use this feature with caution and do not attempt on public roads.  For 2019, Acura installed stiffer front and rear stabilizer bars and retuned the continuously adjustable dampers as well as the power steering and stability-control system. The NSX also has exclusive use of Continental SportContact 6 tires that are claimed to provide better grip than the previous rubber.  Exterior changes for 2019 are limited to minor trim adjustments and new colours, such as the lovely orange pictured here.
Acquiring the NSX will take $192,900, which includes destination charges. Optional are fade-free (and lighter) carbon-ceramic brakes, carbon-fibre roof, rear spoiler and various trim pieces, plus a high-end audio system with navigation.  Those pieces will simply enhance what is an exceptional sports car with advanced technology that delivers flawless performance.
What you should know: 2019 Acura NSX
Type: Mid-engine, all-wheel-drive sport coupe
Engine (h.p.):   3.5-litre DOHC V-6, twin-turbocharged, with electric motors (573)
Transmission: Nine-speed automatic
Market position: Acura's hybrid sports car is basically a rolling technology laboratory that's unlike anything else on the road. It successfully combines full-on performance and fuel-efficiency, wrapped in an eye-popping design.
Points:  Aggressive styling is up there with similar mid-engine sports cars costing more. • Straightforward controls are easily mastered. • Hybrid powertrain makes for one of the quickest cars you can buy at any price. • Leading-edge all-wheel-drive system with torque vectoring helps deliver rapid, controlled cornering. • Lack of dynamic safety tech is surprising.
Active safety:  Blind-spot warning with cross-traffic backup alert (n.a.); active cruise control (n.a.); emergency braking (n.a.); lane-departure warning (n.a.)
L/100 km (city/hwy) 11.1/10.8 ; Base price (incl. destination) $192,900.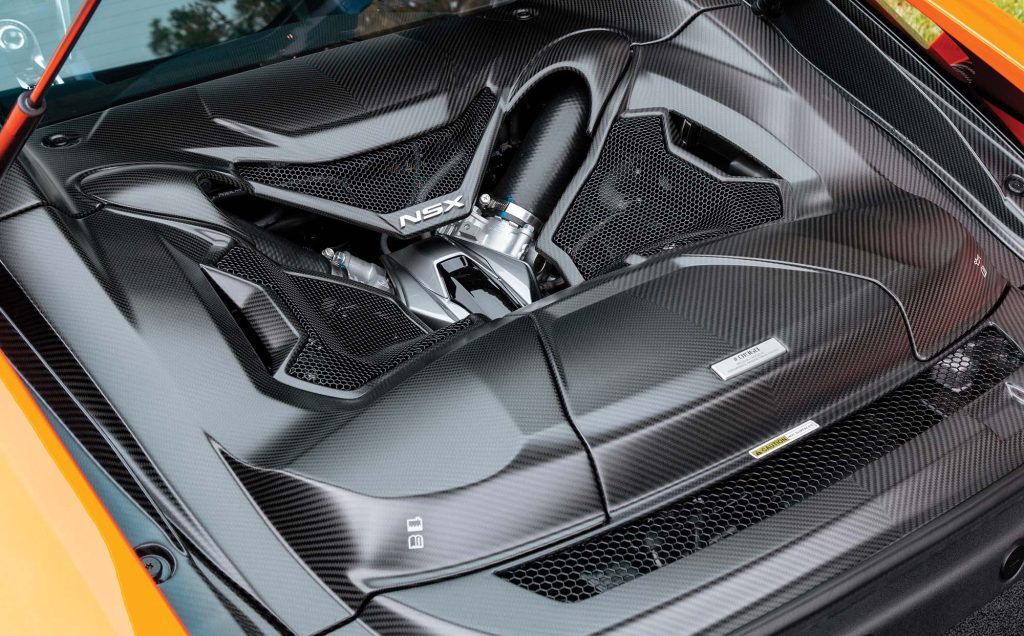 Originally, the new NSX was not turbocharged, but the decision to add them was wise,
although it delayed the launch of the vehicle as the air intakes and the bodywork around them
needed enlarging. Total system output is 573 horsepower. PHOTO: ACURA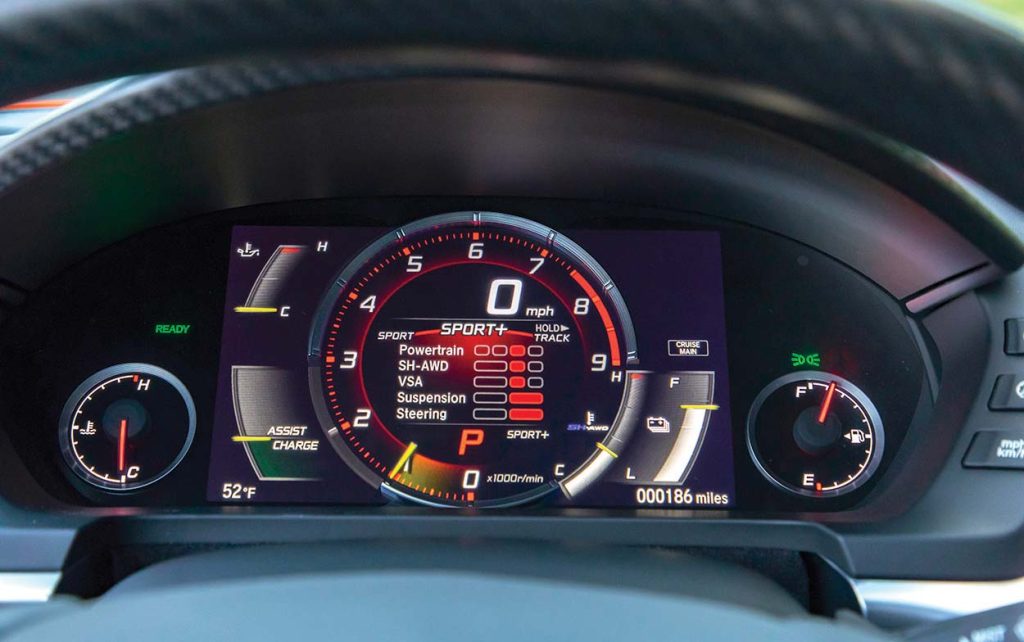 Most of the information essential to driving the NSX is contained in this one digital dial.
It's simple to use and requires minimal technical skill. PHOTO: ACURA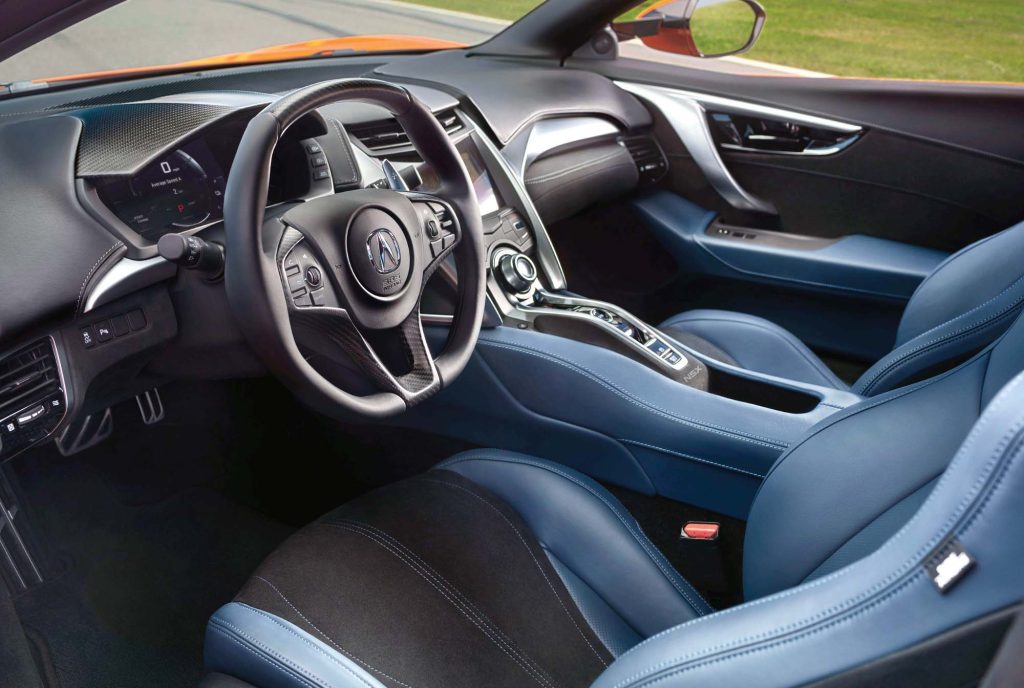 The NSX's interior hints at a supercar, but it's unmistakably Acura. The seats are particularly
appealing because they hold you in place without clamping you, which is an issue with many supercars. PHOTO: ACURA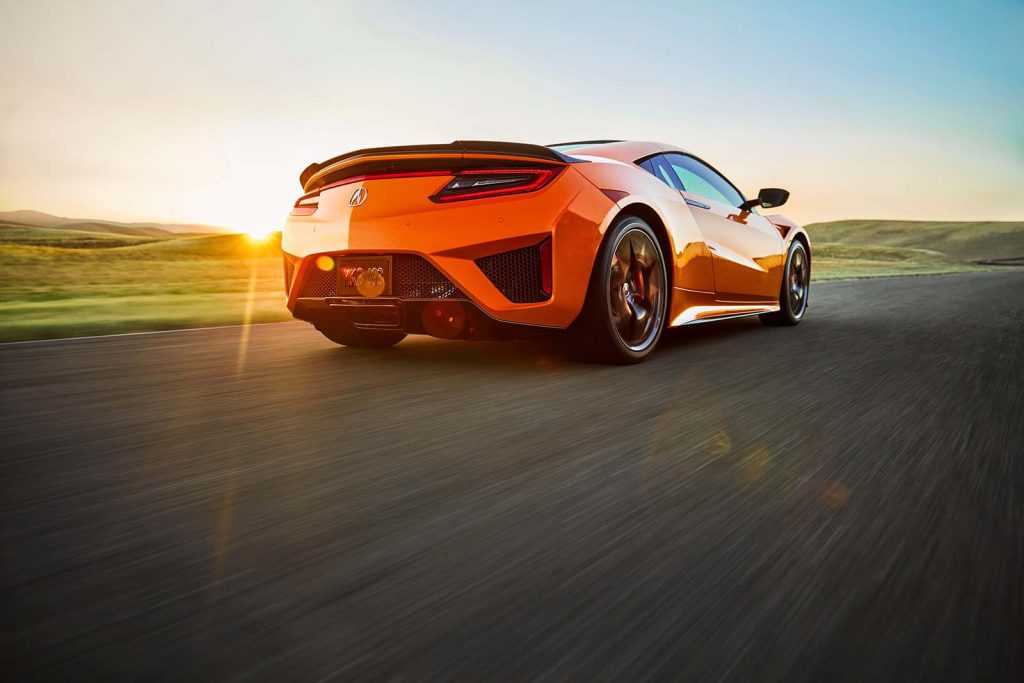 The NSX's suspension has been tuned up for 2019, and that's about it. The powertrain has
two electric motors driving the front wheels and an electric motor assisting the twin-turbocharged
V-6 mounted in the back. PHOTO: ACURA
B Y  C O M P A R I S O N
BMW i8
Base price: $153,500
Plug-in hybrid model is conceptually similar to the NSX in looks and performance.
Porsche 911 Turbo
Base price: $185,450
A strong, slightly quicker competitor comes with an enviable racing pedigree.
Nissan GT-R
Base price: $128,600
Powerful AWD coupe delivers plenty of thrills for less than the competition.