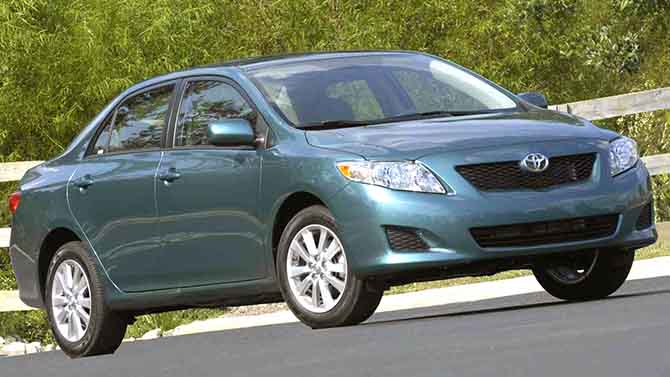 HISTORY
Toyota's small sedan has been its anchor model since 1966 and has become the world's most successful passenger-car brand. With each revision – about every five years or so – Corolla grows in size and power. The tenth-generation Corolla, launched for the 2009 model year, was powered by a 1.8-liter four-cylinder that delivered 132 horsepower. Meanwhile the XLE and sporty XRS, which were available for 2009 and 2010 model-years only, came with a 158-horsepower 2.4-liter four-cylinder. Either engine was matched with a five-speed manual transmission, or four- or five-speed automatic. The Corolla received a mild makeover for 2011, two years before Toyota replaced the five-year-old design with an all-new edition for the 2014 model year.
THE GOOD STUFF
This series of Corollas continued to hold fast to its popularity primarily because the cars offered comfortable passenger accommodations, decent storage space and excellent fuel economy, all wrapped up in a neat, tidy package that resembled the larger Camry. These cars also possessed an enviable reputation for reliability that to this day other manufacturers struggle to match. The combination of its 1.8-liter engine mated to the smooth-shifting five-speed-manual transmission (a four-speed automatic was also available) provided effortless performance. The XRS's more powerful engine delivered greater driving pleasure and, with added body trim and a rear spoiler, an extra measure of styling pizazz.
HEADS UP!
The interior of base models was awash in monotone cloth and plastic trim, with very little brightwork to break the boredom. As well, the base engine exhibited some clatter under acceleration as well as while cruising. Note that the higher-output XRS engines were not as fuel efficient as the base 1.8, however they were the preferred choice for drivers seeking more performance and, with its firmer suspension and larger-than-standard-rubber, a more sporting driving experience.
PRICES AT A GLANCE
Corollas are in big demand with used car shoppers, which is reflected in higher resale values. XRS models, with their performance-focused powertrains and suspensions, will command slightly higher prices.
Year range    Approx. price range
2009    $11,000-$13,000
2010    $12,000-$15,000
2011    $13,000-$14,500
2012    $15,000-$16,000
2013    $16,000-$17,500
(The higher end of a given price range represents vehicles with more options and fewer miles.)
OVERALL
The Corolla is the kind of car you can confidently recommend to a friend or relative who's looking for basic, economical transportation. For your money you'll get a car with all the right virtues, including supportive seats, a compliant ride and a reliable, fuel-sipping engine. You'll also be secure in the knowledge that you're piloting a car with one of the best (lowest) frequency-of-repair records in its class.
VITALS
Engine: 1.8-liter DOHC I4 (132 hp); 2.4-liter DOHC I4 (158 hp, 2009-'10). Transmissions: Five-speed manual; four-, five and six-speed automatics.  Layout: Front-engine, front-wheel drive. Body: Four-door sedan.