By MALCOLM GUNN
www.wheelbasemedia.com
The second-generation CLA is a desirable piece of eye candy and is also one of the more affordable vehicles in the Mercedes-Benz lineup. Before diving in, however, there are certain practicalities that should be considered.  You see, the CLA is a bit of a head scratcher. For most buyers/lessors, the four-door car likely makes more sense than selecting some two-door model. However, the head- and leg-room-deficient rear seat in the low-slung sedan — that Mercedes-Benz insists on calling it a coupe — isn't suitable for taller occupants.   The original CLA that launched for 2014 was an entry-level model inspired by the larger CLS, but in a scaled-down format and at much less than half the CLS's base price. According to Mercedes-Benz, most of the CLA's 750,000-plus owners worldwide are, not surprisingly, considerably younger than the typical M-B customer.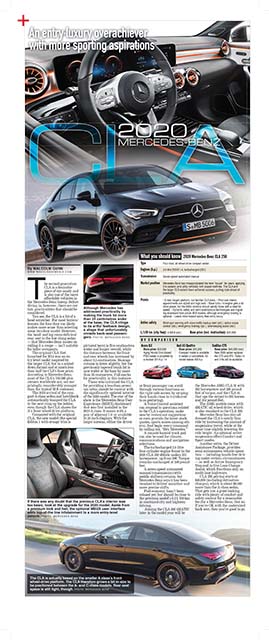 The 2019 arrival of the compact A-class sedan and hatchback automatically bumped the CLA to the next rung up the ladder, even though the CLA shares the A's front-wheel-drive platform.  Compared with the original CLA, the new model (the special Editon 1 with orange trim is pictured here) is five centimetres wider and longer overall, while the distance between the front and rear wheels has increased by about 2.5 centimetres. Stowage volume is down slightly, but the previously tapered trunk lid is now wider at the base by more than 25 centmetres. Full marks for practicality in this instance.
Those who criticized the CLA for providing a less-than-premium cabin should be content with the significantly updated interior of the 2020 model. The star of the show is the Mercedes-Benz User Experience (MBUX) dashboard that was first installed in the 2019 A class. It comes with a pair of adjacent 7.0- or available 10.25-inch displays. With the larger screens, either the driver or front passenger can scroll through various functions on the right-side screen by swiping their hands close to it (referred to as gesturing).
A Voice Control assistant can respond to questions related to the CLA's operation, make nearby restaurant suggestions or even provide the latest stock quotes, sports scores (among others). Just begin every command by calling out, "Hey Mercedes."  A console-located track pad can also be used for climate, communications and navigation selections.
The turbocharged 2.0-litre four-cylinder engine found in the 2020 CLA 250 4Matic makes 221 horsepower, up from 208. Torque remains unchanged at 258 pound-feet.   A seven-speed automated manual transmission (with paddle shifters) returns, but Mercedes-Benz says it has been tweaked to deliver smoother and more precise shifts.  Fuel economy hasn't been relased yet, but should be close to the previous model's 8.2 l/100 km in combined city and highway driving.
Joining the CLA 250 4MATIC later in the model year will be the Mercedes-AMG CLA 35 with 302 horsepower and 295 pound-feet of torque, and the CLA 45 that ups the output to 382 horses and 354 pound-feet.
The AMG models come with 4MATIC all-wheel-drive, which is also standard in the CLA 250.  Mercedes-Benz has also addressed the CLA's overly firm ride by increasing the amount of suspension travel, while at the same time slightly lowering the ride height. An optional active suspension offers Comfort and Sport modes.  Another extra, the Driver Assistance Package, provides semi-autonomous vehicle operation — including hands-free driving under certain circumstances — as well as Active Emergency Stop and Active Lane Change Assist, which functions only on multi-lane highways.  CLA 250 pricing starts at $45,000 (including detination charges), which is about $8,000 more than the A-class sedan. That gets you a great-looking ride with plenty of comfort and safety content for a reasonable fee (for a Mercedes-Benz, that is). If you're OK with the undersized back seat, then you're good to go.
What you should know: 2020 Mercedes-Benz CLA 250
Type: Four-door, all-wheel-drive compact sedan
Engine (h.p.):   2.0-litre DOHC I-4, turbocharged (221)
Transmission: Seven-speed automated manual
Market position: Mercedes-Benz has misappropriated the term "coupe" for years, applying it to sedans (and utility vehicles) with sloped rooflines. The CLA and the larger CLS sedans have achieved success, putting style ahead of practicality.
Points: A new (larger) platform, but familiar CLA looks. • First-rate interior appointments are stylish and high tech. • Base turbo I-4 engine gets a bit more power, but the AMG versions should satisfy those with a need for speed. • Dynamic safety and semi-autonomous technologies are migrating downward from pricier M-B models, although emergency braking is optional. • Leans more toward sporty than entry luxury.
Active safety:  Blind-spot warning with cross-traffic backup alert (std.); active cruise control (std.); emergency braking (opt.); lane-keeping assist (std.)
L/100 km (city/hwy) 9.6/6.6 (est.); Base price (incl. destination) $45,000.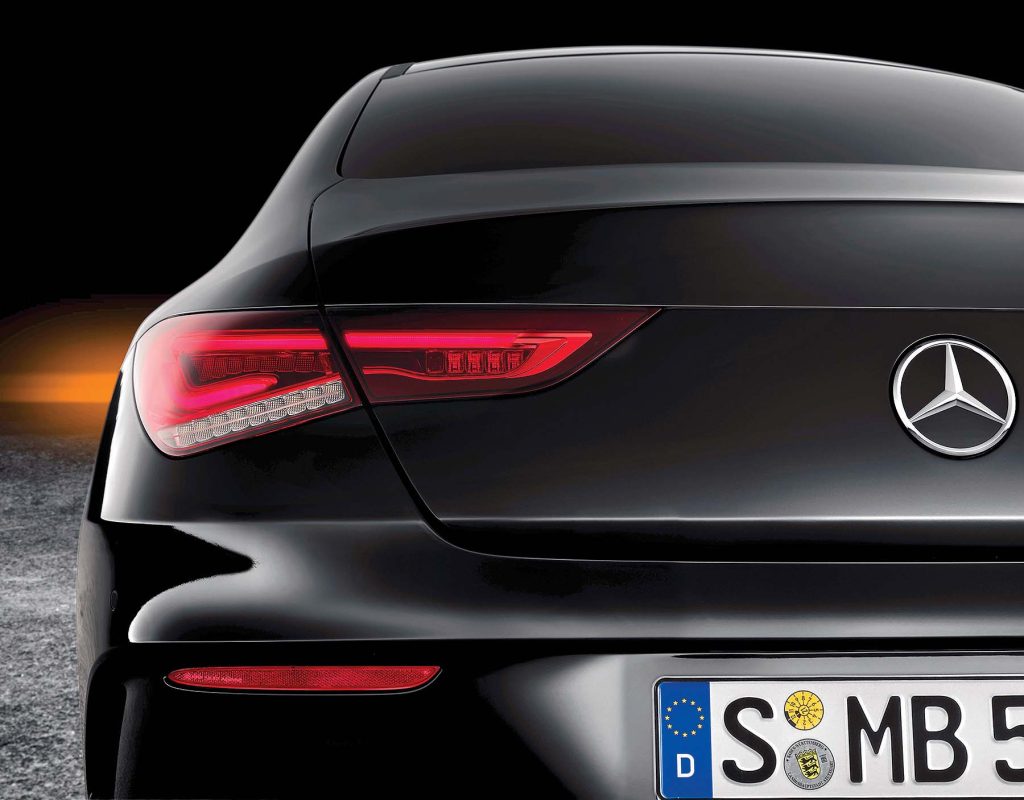 Although Mercedes has addressed practicality by making the truck lid more than 24 centimetres
wider at the base, the CLA clings to its artful fastback design, a shape that unfortunately
crowds back-seat passengers. PHOTO: MERCEDES-BENZ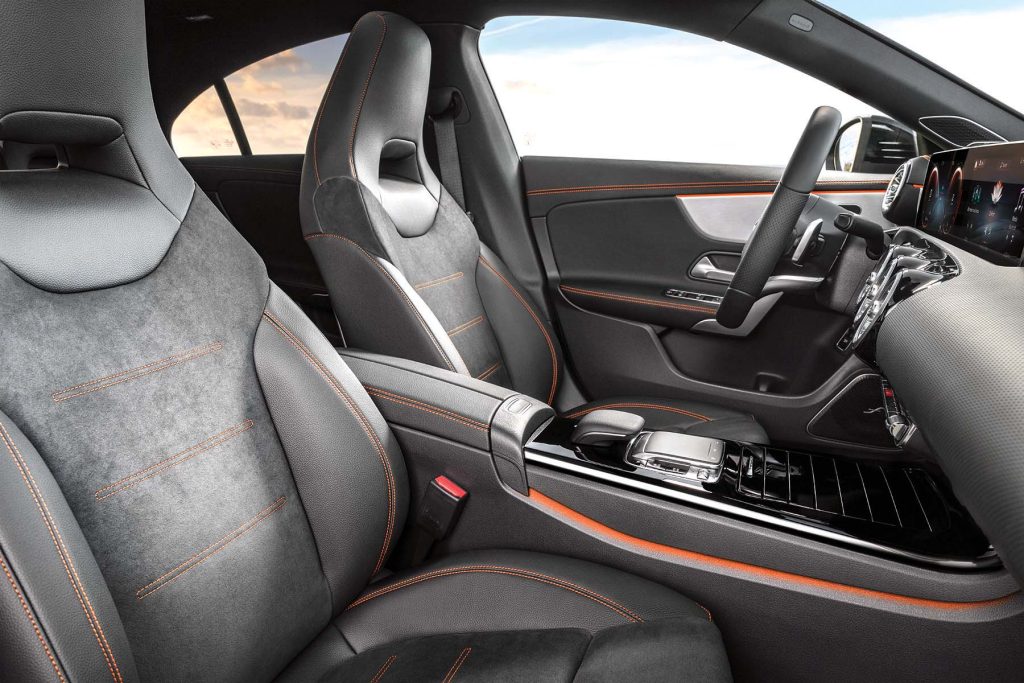 If there was any doubt that the previous CLA's interior was too basic, look at the upgrade
for the 2020 model. Aside from a premium look and feel, the optional MBUX user interface
adds top-of-the line infotainment to a more entry-level vehicle. PHOTO: MERCEDES-BENZ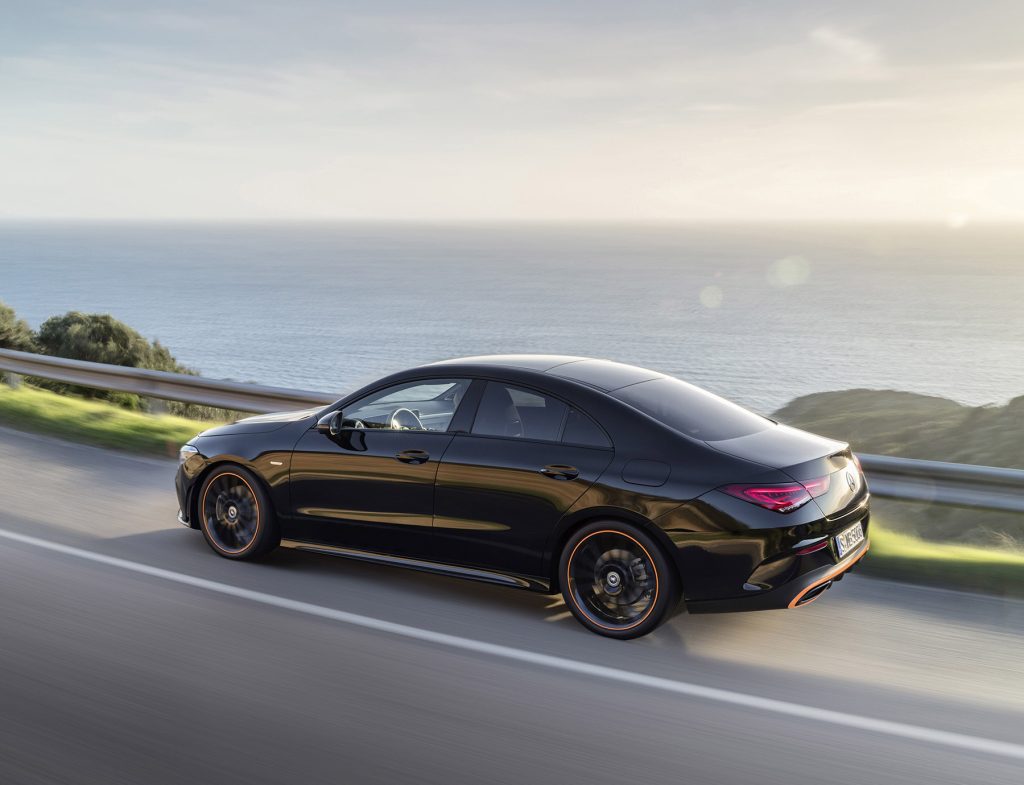 The CLA is actually based on the smaller A class's front-wheel-drive platform.
The CLA therefore grows a bit in size to be positioned between the A- and C-class models.
Rear-seat space is still tight, though. PHOTO: MERCEDES-BENZ
B Y  C O M P A R I S O N
Acura ILX
Base price: $32,000
Aging Honda Civic-based FWD sedan is propelled by a modest 201-h.p. I-4.
Audi A3 Quattro
Base price: $40,200
Compact model is available in sedan or convertible. S3 model makes 400 h.p.
Cadillac CT5
Base price: $40,000 (est.)
New 2020 sedan replaces the CTS and ATS. Turbo I-4 and V-6s will be available.