By MALCOLM GUNN
www.wheelbasemedia.com
he 2019 Toyota Corolla Hatchback might confuse some people. Although on the surface it appears to be a warmed-over version of the previous Corolla iM (originally the Scion iM), that's just not the case.  The new Hatchback's prow shows off Toyota's signature wide-mouth grille that's found on a number of the automaker's products, from the subcompact Yaris to the near-luxury Avalon. At the opposite end, the Hatchback's more steeply raked cargo opening is made of a lightweight composite instead of steel. A more aggressive rear bumper with twin exhaust outlets gives a sense of sportiness.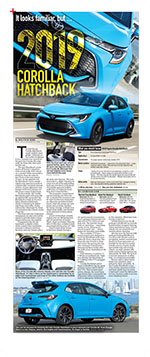 On the outside, the Corolla Hatchback might still seem like an updated iM, except that the Hatchback is built on Toyota's latest chassis architecture, which is claimed to be lighter and 60 per cent stiffer. It also reduces the ride height by about 1.5 centimetres for a lower centre of gravity.
The front and rear suspension components are also new and designed to provide better cornering precision and ride comfort.
Compared to the iM, the hatchback is slightly wider, while a nearly four-centimetre increase in distance between the front and rear wheels adds a bit more rear legroom. The only downside is a slight reduction in cargo area aft of the split-folding back seat, but there's still plenty of available space for bulkier stuff when it's folded forward. Note that it does fold flat.
The passenger compartment carries nothing over from the iM. A standard 20-centimetre tablet-style touchscreen dominates an otherwise uncluttered dashboard, while the gauges are now larger and set closer together for easier viewing. A handy tray ahead of the shifter also doubles as the optional wireless phone charger.  A new 2.0-litre four-cylinder engine puts out 168 horsepower and 151 pound-feet of torque. That's 23 per cent better than the iM's 1.8-litre four-cylinder (rated at a comparatively puny 137/126).
The 2.0 sends those horses to the front wheels through a six-speed manual transmission, or an optional continuously variable unit (CVT), which are also both new. The manual comes with rev matching — something rarely, if ever, found in low-priced compact cars — which makes for smoother downshifts.
The available CVT has a unique launch gear designed to move the Hatchback with more authority from a dead stop. The trans also has 10 built-in steps that mimic the gearing of a regular automatic transmission. Normal and Sport modes alter the shift action, depending on the setting.  Fuel economy is rated at 7.5 l/100 km in combined city/highway driving, but that improves to 6.7 l/100 km for CVT-equipped models.  Corolla Hatchback prices begin at $22,800 for the six-speed manual version (add $1,000 for the CVT). That includes destination charges, the usual basic ingredients plus a reasonable list of dynamic-safety technologies, such as emergency braking (rare in this segment). Blind-spot monitoring is optional.  Notable features for the SE package (a $3,000 add-on) include heated leather-wrapped steering wheel, heated front seats, 16-inch wheels (15s are standard) and wireless phone charging.
Moving up to the top-end XSE package (topping $28,000) gets you dual-zone climate control, navigation, leather-covered seats (heated in front and power-adjustable for the driver), heated outside mirrors, fancier inside and outside trim and 18-inch wheels. An eight-speaker JBL audio system and navigation are optional for the XSE. The lack of a sunroof, panoramic or otherwise, is a surprising oversight.
Buyers tend to select hatchbacks over similarly sized sedans for their versatility. In the Corolla Hatchback's case, crisp styling, generous content and more power than its sedan counterpart (until the 2020 model arrives, anyway) make it an even more tempting choice.
What you should know: 2019 Corolla Hatchback
Type: Front-wheel-drive subcompact hatchback
Engine (h.p.):   2.0-litre DOHC I-4 (168)
Transmission: Six-speed manual; continuously variable (CVT)
Market position: Hatchbacks are popular — particularly in the subcompact class — where maximum utility is a factor. They also tend to be less expensive than similarly sized utility vehicles.
Points: Styling isn't too far removed from its predecessor, except for a more prominent grille. • Interior styling and content will be familiar to most buyers. • The more muscular four-cylinder engine was long overdue and will also come in the 2020 Corolla sedan. • Standard active-safety tech is an important distinction.
Active safety: Blind-spot warning (opt.); active cruise control (std.); emergency braking (std.); lane-departure warning; pedestrian detection (std.)
L/100 km (city/hwy) 7.5/5.8 (CVT); Base price (incl. destination) $22,800.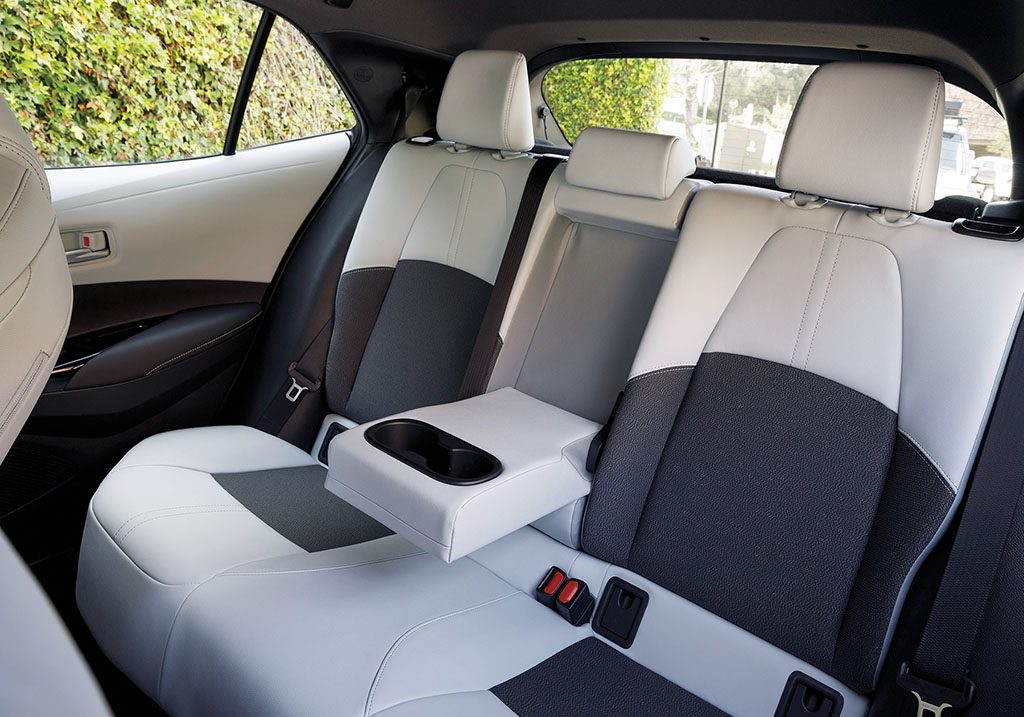 With the front and rear wheels spaced farther apart, there's a bit more rear legroom than in the
Corolla iM, although that car had slightly more cargo room behind the seat. PHOTO: TOYOTA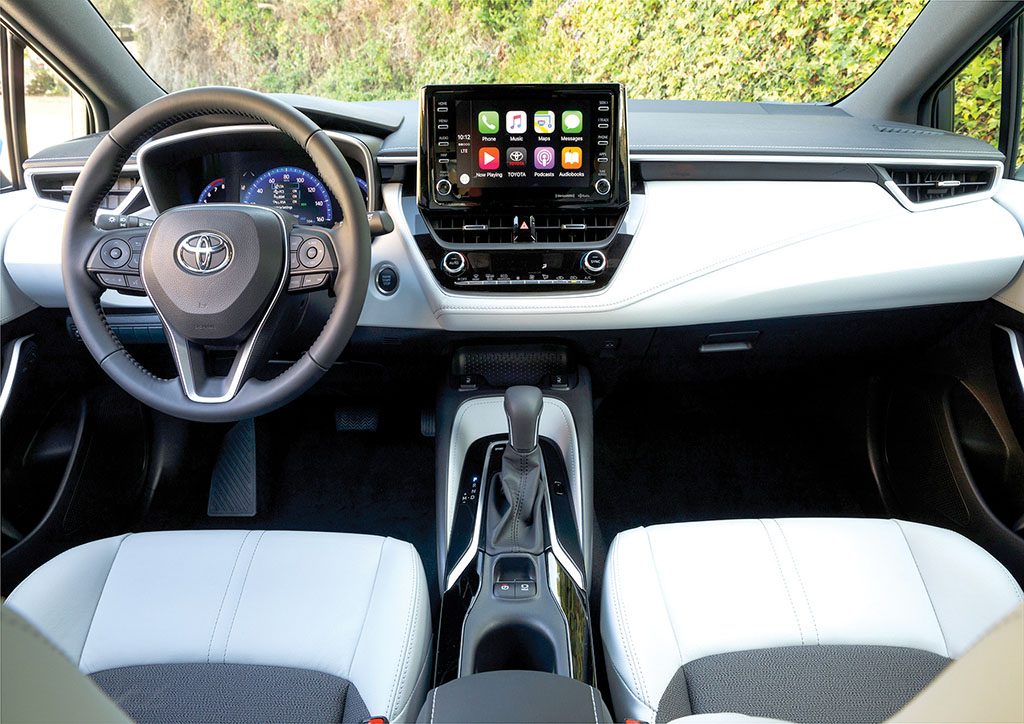 None of the Corolla iM's interior bleeds over into the new Corolla Hatchback. It's tidy in there
as the dashboard is dominated by a 20-centimetre touchscreen and most of the other buttons
are located on the steering wheel.
PHOTO: TOYOTA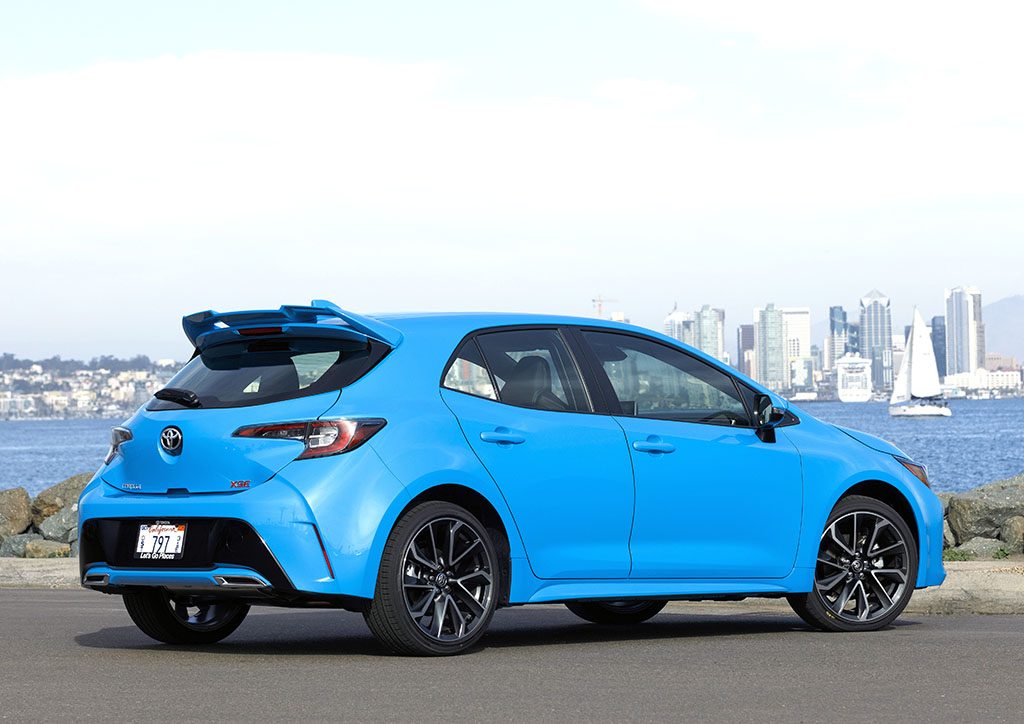 You can be excused for thinking the new Corolla Hatchback is just a warmed-over Corolla iM.
Even though there's a new chassis, interior and engine and transmissions, its shape is familiar.
PHOTO: TOYOTA
B Y  C O M P A R I S O N
Chevrolet Cruze Hatchback
Base price: $23,700
Smart-looking model is in its final year as Chevrolet is ending Cruze production.
Honda Civic Hatchback
Base price: $23,900
The most practical of Civic's three body styles. Type R puts out 306 horsepower.
Mazda3 hatchback
Base price: $23,100
New stylish hatch (and sedan) offer a 155- and optional 186-h.p. I-4 engines.