By Malcom Gunn
www.wheelbasemedia.com
If there's one vehicle that's synonymous with the Honda brand, without question it would be the Civic.
It was the automaker's breakthrough model when it first arrived here in the early 1970s. Throughout the ensuing decades, the Civic has remained a strong seller in its class despite the seismic market shift to utility vehicles and pickups, including Honda's own CR-V and HR-V compact tall wagons.
The 11th-generation front-wheel-drive Civic sedan has been updated and refined, which is in keeping with the times and with customer demographics. Honda has avoided making any radical adjustments, but the sedan is noticeably more mature-looking. The snub-nose front-end design adopts an upright look and the roofline appears less rakish as it slopes into the rear deck. Well-defined creases extending across the door panels and rear fenders are classy touches.
The LED taillights are less garish than before and blend in neatly with the trunk-lid spoiler, which adds a certain sporting flavour.
But what about the Civic coupe? The two-door variant is no more, a victim of slow sales. The coupe was (and still is) the preferred rite-of-passage car for the younger set, many of whom use the car as a platform for modifications and personalization.
The sedan's body panels attach to a modified version of the previous platform that has been designed for greater rigidity. There's also more sound deadening material.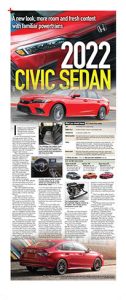 The redesign has added about five centimetres in length, close to four centimetres between the front and rear wheels, and trunk volume has increased to 425 litres from 396. There's also slightly more distance between the left and right of wheels (track width), which helps give the Civic a more planted appearance.
Interior highlights include a cleaner-looking dashboard with 7.0- or 9.0-inch tablet-style touch-screens positioned adjacent to the gauges instead of above the shift lever as was previously the case. A honeycomb-pattern trim-strip extending across the dash masks the ventilation outlets and is contrasted by control knobs for the audio and climate systems.
The Civic's non-turbo and turbocharged four-cylinder engines are back for 2022. The base 2.0-litre remains at 158 horsepower and 138 pound-feet of torque, while the optional turbocharged 1.5 makes 180 horsepower and 177 pound-feet, a gain of six horsepower and 15 pound-feet.
The engines come with a continuously variable transmission that has been revised to improve fuel economy. For the 2.0-litre, there's a slight improvement in combined city/highway driving (now 6.9 l/100 km). Additionally, a new standard multi-mode system for the turbo drivetrain can be set to Normal, Sport or ECON, depending on driver preference.
The later-arriving and sportier Civic Si sedan comes with a 200-horsepower version of the 1.5-litre engine, and a six-speed manual transmission.
The hotter Type-R model will also return for 2022, but details have yet to be revealed.
The base Civic LX sedan is $26,300, including destination charges, and includes a number of active-safety technologies under the Honda Sensing umbrella. You'll get forward-collision and lane-departure warnings, road-departure mitigation, adaptive cruise control and traffic-sign recognition. Blind-spot warning and rear cross-traffic monitoring are only available when the turbo engine is specified, which is a real head-scratcher.
The Civic Sport adds 18-inch alloy wheels (16-inch steel wheels are standard), sport pedals and an eight-speaker premium audio system.
The EX gets dual-zone climate control, power moonroof and heated front seats.
Along with the turbo 1.5, the top-line Touring is filled out with navigation, 12-speaker Bose-brand audio, leather-trimmed seats and a power-adjustable driver's seat, to name a few of the highlights. The test car, which was a Touring model, definitely felt tight and sporty. The suspension was quiet and the steering was shockingly precise/accurate. The 2022 Civic drives like a more expensive car.
Although the visual changes and updates aren't especially earth shattering, they certainly improve on what is already one the best looking, best performing vehicles in its class.
What you should know: 2022 Honda Civic sedan

Type: Front-wheel-drive compact sedan
Engine (h.p.): 2.0-litre I-4 (158); 1.5-litre I-4, turbocharged (180)
Transmission: Continuously variable (CVT)
Market position: The latest Honda Civic isn't exactly all new, but interior/exterior alterations make it more competitive with the few remaining compact sedans, all from import-based automakers.
Points: Modest restyle gives the sedan and hatchback a more mature look. • The biggest wow factor is the interior. • Standard and optional engines return with the latter receiving more oomph. • Some will morn the passing of the coupe and the sedan's manual transmission, but it's a sign of the times.
• Why the limited availability of blind-spot monitoring and cross-traffic alert?
Driver assist: Blind-spot warning with cross-traffic backup alert (opt.); active cruise control (std.); front emergency braking (std.); inattentive-driver alert (n.a.); lane-departure warning (std.); pedestrian detection (std.)
L/100 km (city/hwy): 7.7/6.9 (2.0)
Base price (incl. destination): $26,300.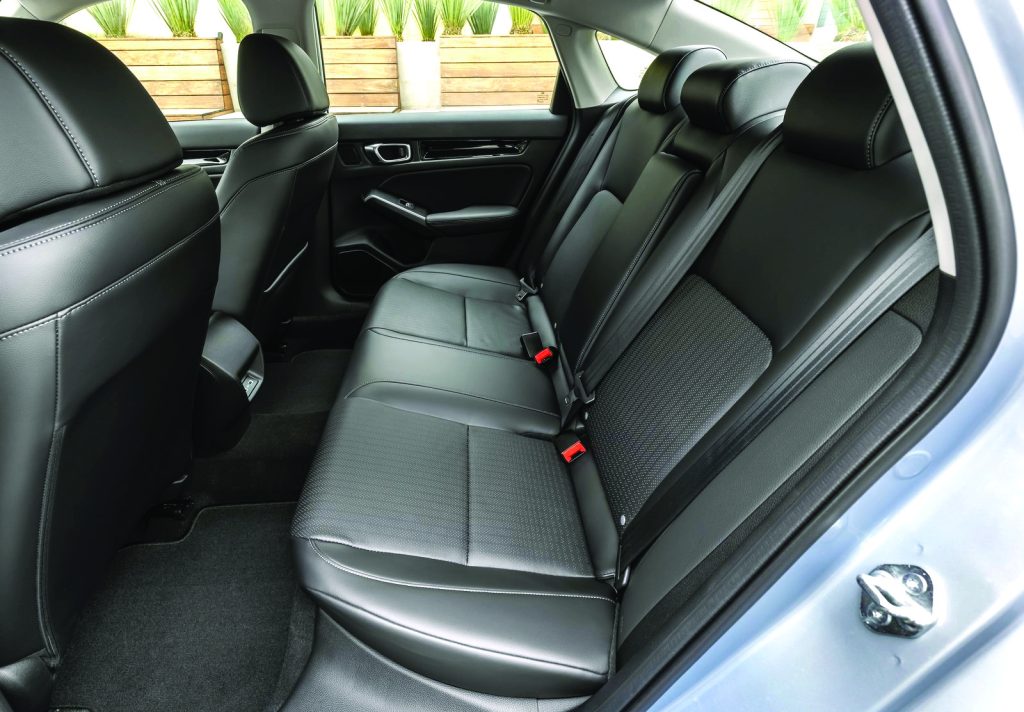 The redesign has added close to four centimetres between the front and rear wheels,
and trunk volume has increased to 425 litres from 396.
PHOTO: HONDA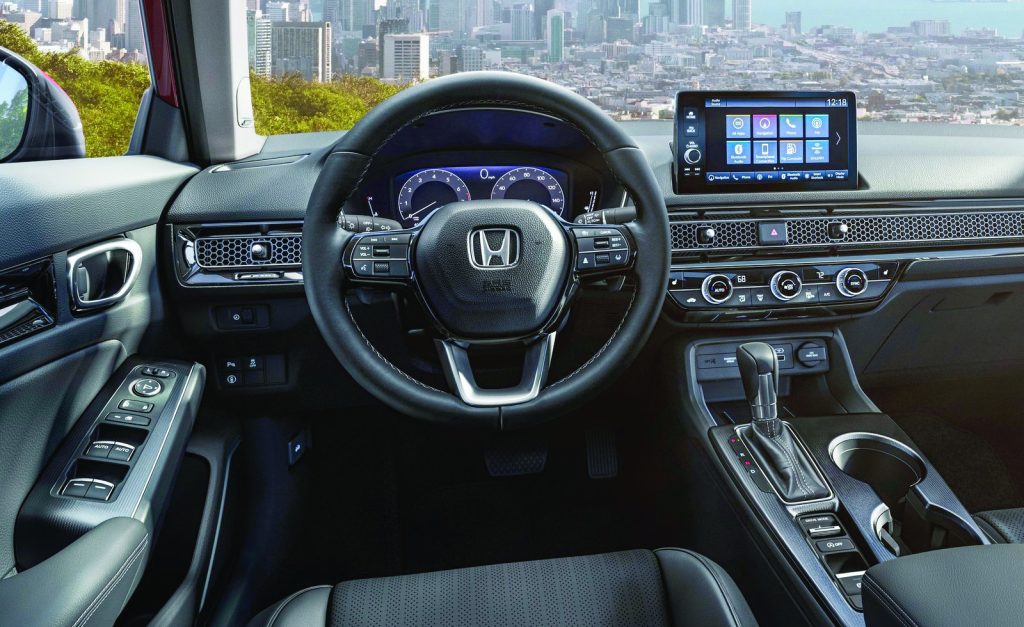 A wide, narrow band of mesh cleverly hides the air vents, which are controlled by the small silver nubs.
PHOTO: HONDA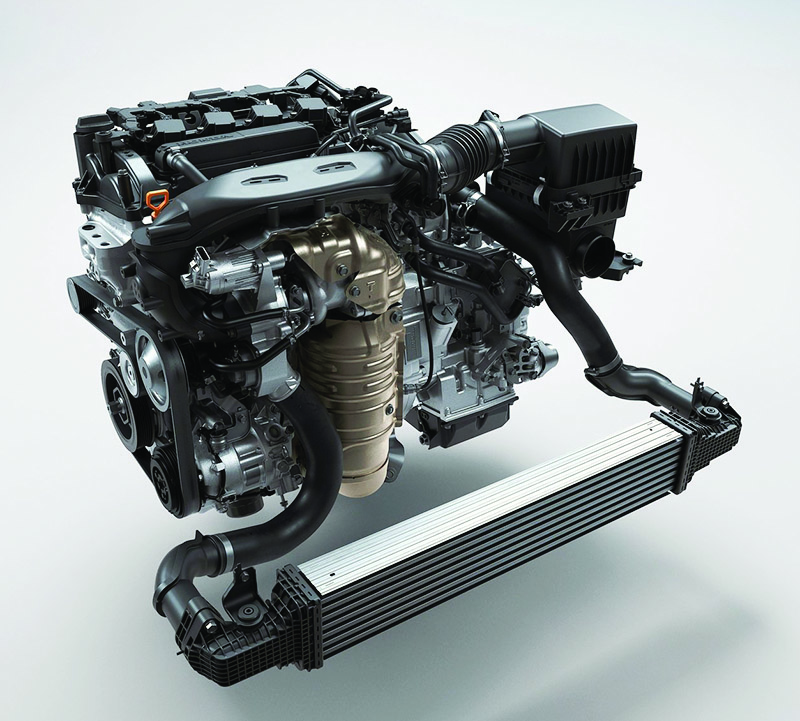 The turbocharged 1.5-litre four-cylinder engine is back as an option, but it picks up six horsepower (now 180).
PHOTO: HONDA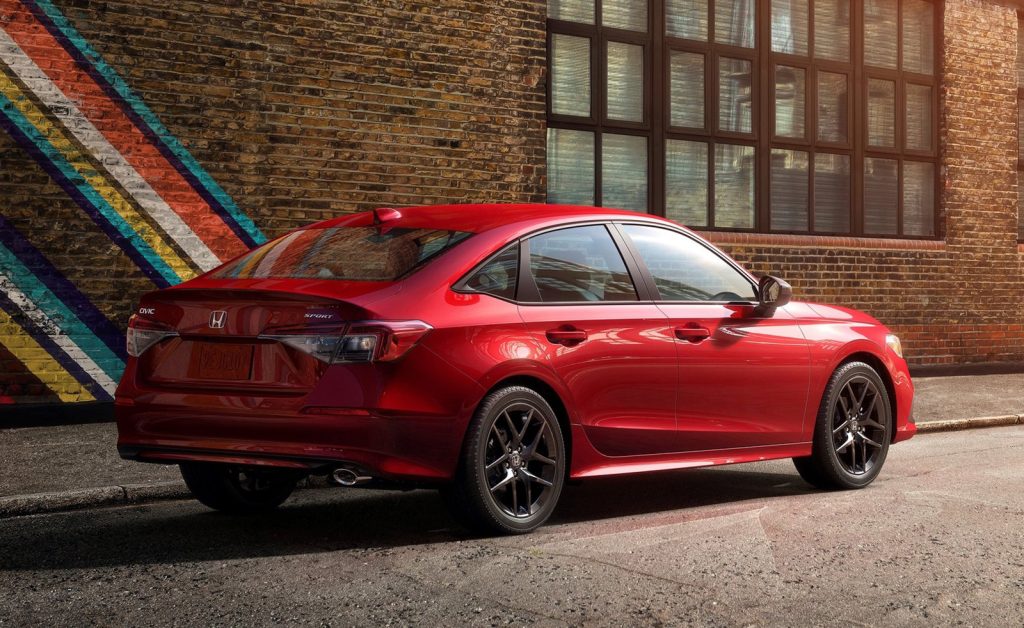 The new 11th-generation Honda Civic sedan has matured, in some ways resembling the larger Accord.
Note that the two-door coupe is no longer offered.
PHOTO: HONDA
B Y  C O M P A R I S O N
Toyota Corolla CVT
Base price: $23,800
Civic rival can be had in sedan and hatch bodies. Tall wagon added for 2022.
Kia Forte CVT
Base price: $21,500
Low-priced sedan has 147-h.p. non-turbo engine, or 201-h.p. turbo engine.
Nissan Sentra CVT
Base price: $21,000
Well-priced model has good looks and a standard 149-h.p. four-cylinder.